What makes you unique?
Published: 11th February 2021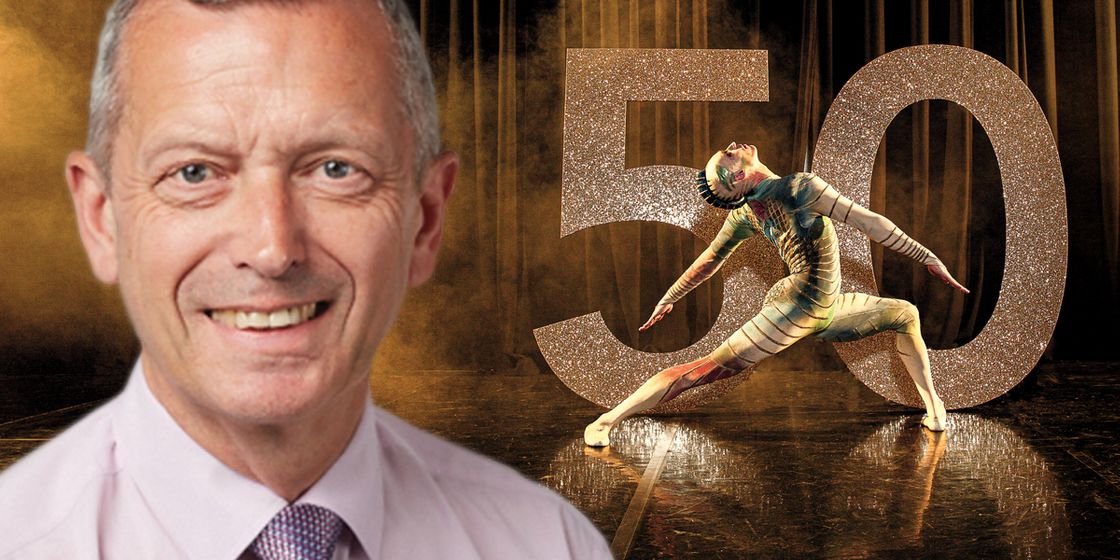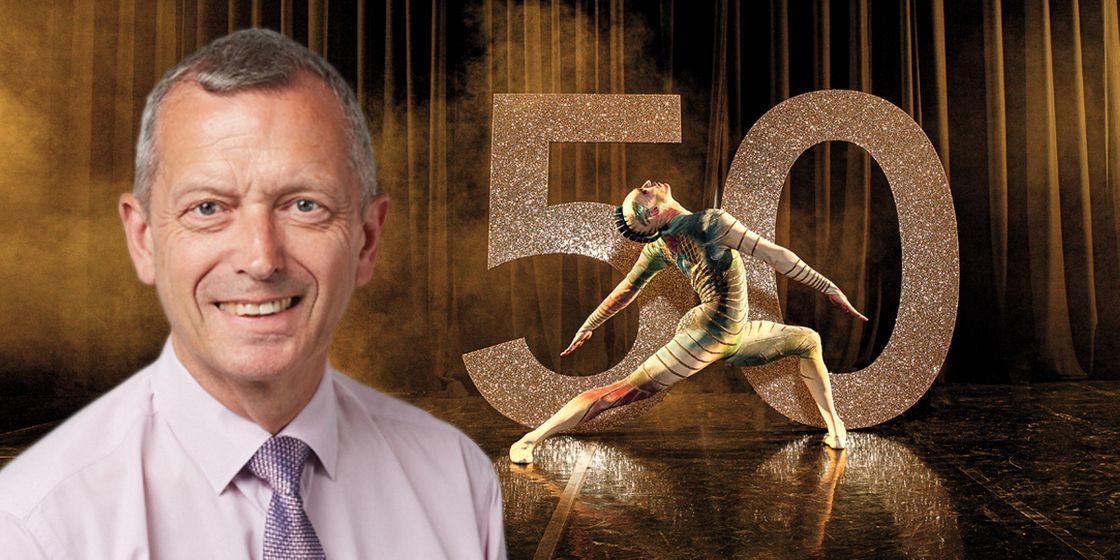 Mark Skipper has been Chief Executive of Northern Ballet since 1996. Mark started his career in banking before joining Northern Ballet as Deputy Stage Manager in 1987. He was promoted to the role of Company Manager and then Head of Planning before being appointed Chief Executive. Since then he has supported the creation of more than 40 new productions and overseen the creation of a purpose-built home for the Company.
Can you please tell us some information about your career to date?
I started work at Northern Ballet in 1987, but my first career was in banking which was very different. I worked for Barclays bank, and it was during this time that I started to have an interest in performing in amateur theatre and
then in stage management.
I got to a point around 1985/86 where I realised I no longer wanted to work in banking and wanted to focus on theatre, so I left a mid-level role at Barclays and started working in stage management. After a couple of years of working on operas and musicals, I started working at the Kings Theatre in Southsea, Portsmouth. In 1987 Northern Ballet Theatre came on tour to that theatre and happened to be looking for a new Deputy Stage Manager (DSM).
The DSM controls all the lighting cues, sound cues and scene changes. Although score reading is advantageous in musicals and opera, with ballet you have to be able to read music because everything is set to the musical score. Luckily, I had been a pianist since I was little so I had good ability in score reading. I applied for the job and ultimately began working with the company.
The first ballet I worked on was called 'A Simple Man' about the artist L S Lowry, which was choreographed by Gillian Lynne (who also choreographed Cats and Phantom of the Opera). I was DSM for a while, and was then promoted to Stage Manager which, instead of giving all the cues, you oversee the running of all technical areas of the show including scene changes. After that I became the Company Manager, dealing with the administration of the Company whilst on tour; I did that for about 6 or 7 years.
In 1995 we had a new Business Director, and she created a new role of Head of Planning to manage the planning of the Company's extensive tour. I did that for a few months but by the summer of 1995 I was acting as the Executive Director after the sudden departure of the Business Director. The Company then formally recruited for the Executive Director role, which I interviewed for, and was appointed and started officially in the role in May 1996. I have been the Chief Executive (formerly titled Executive Director) ever since. Having worked my way up through the Company and particularly on the touring side, I know exactly what goes on in each department and that means you can always understand each department's perspective.
Is your role now more commercial?
I believe it is more commercial to a degree, but first and foremost it is about the art and ensuring we can create and tour as extensively as possible. We still tour more than any other ballet company in this country because over the years we have been able to stay at an appropriate size and not allowed the company to grow extensively. Some companies have grown so much it becomes too expensive to tour and they might only go to five towns or cities outside of where they are based, whereas we are still going to around 20 with our full-scale work.
Our business model works because of our size and we are the only company who can make a financial contribution from touring. By that I mean that if you take away our core costs, such as the dancers, and look at the actual cost of touring with transport costs, orchestra costs, marketing costs, etc. and place that alongside the income we get from selling tickets, we generally make a small contribution back to our core budget. It is becoming more difficult to make that contribution though because of increased costs and we cannot keep raising ticket prices as there is a price point above which people cannot afford to go.
Over the years we have progressed well with fundraising. We have always been successful with corporate support going back to BT in the early 90s, Halifax/HBOS from 1996-2001, then Leeds Metropolitan University for a while and most recently first direct. Our extensive tour makes us a good vehicle for corporates who need to engage with their customers and worked especially well for an organisation like first direct who don't have branches for their customers, so it is an important way to engage with them. At the moment, however, we do not have a national tour sponsor and are working hard to develop a relationship with someone new.
A lot of the focus of my job is to secure income and raise funds, whether that is by making sure we are programming a balanced repertoire, securing support from Arts Council England, and of course supporting the fundraising team with their relationships with donors.
Was the Leeds venue purpose built for you?
Northern Ballet was founded in Manchester in 1969, we then moved to Halifax in 1990 in response to the need to pursue funding. We moved to Halifax on the basis that we were going to receive an increased revenue grant from the local authority and a purpose-built facility for the Company with plenty of studios and room for a school. Things did not progress exactly as planned and by 1996 it was time to move again. Fortunately, we were approached by Leeds City Council who offered us a good level of funding with the willingness to help build us a purpose-built facility in the centre of Leeds.
We moved to Leeds in 1996 and eventually got our new building in Quarry Hill in 2010, so it did take a little while but at least that is a legacy that I will always leave behind for the company. We went from a less than ideal re-purposed secondary school in the north of Leeds with two Gymnasiums as studios, leaky ceilings, and classrooms as our offices, to a beautiful purpose-built facility in the centre of Leeds. The building instantly changed the way the company was perceived. For anyone coming to visit us and seeing our impressive glass fronted building with seven studios, a theatre and a ballet school they realise it is something you want to get involved in. For me personally, accomplishing this has to be my greatest personal achievement.
We tour extensively, and our position in this country is of a company that really reaches people, especially in many towns and cities that do not get any other ballet. We have a dedicated repertoire of children's ballets too. We started creating short ballets for children in 2012 and the great thing about them is that even today there is nothing else created specifically for preschool children. Other companies perform versions of ballets like The Nutcracker and Swan Lake that are contracted from the full-length versions and made more accessible, but they are nothing like what we began creating in 2012 specifically for that preschool age. Our children's ballets are about 40 minutes long, with proper sets and costumes and live music. We have created seven of these productions to date which we have toured extensively and also adapted for TV with CBeebies. We also began showing them in cinemas in 2019.
The children's ballet project started thanks to a £20,000 investment from Leeds City Council which was awarded to us to offer something to local communities. Since then the children's ballets have developed and are now supported by Arts Council England. They are something that young families can enjoy together, and we have kept the pricing low, so it is accessible to everyone from all economic backgrounds. Occasionally we will even put on a show for free because we know that sometimes even £1 is expensive and we want to make it available to as many people as we can.
For us, our business model is not about being profitable but maximising our resources to ensure we can create a new full-scale ballet and new children's ballet every year and tour them extensively whilst still maintaining a reasonable financial position. As a charity, our aim is to make ballet as accessible as possible, which we can do thanks to the support from companies like yourselves and other supporters.
How have you found it over the last few months during lockdown?
This year is our 50th anniversary so it has not been exactly as we had planned! In October 2019, we had our first ever live broadcast into cinemas in the UK and overseas with Dracula from Leeds Playhouse on Halloween. Although we began streaming productions into cinemas earlier that year, this was our first live cinema stream. On 4 January we had our 50th Anniversary Celebration Gala to celebrate our 50th anniversary. Following this we had planned two new full-length productions for the anniversary year. The first was Geisha, which had its world première on the 14 March, but then that was it. On 16 March, the government closed theatres which was hugely disappointing and distressing for all those that had taken a lot of time creating the production. The première was different than usual as we could not hold events and receptions to avoid having people close together in function rooms. That said the evening went brilliantly and was received extremely well by audiences and critics. I always joke that it is the most successful production we have ever done that closed after just one night!
We should then have embarked on an extensive UK tour that would have run from the end of March all the way through to June with Geisha plus a revival of Cinderella. We were also supposed to be touring our children's ballet Little Red Riding Hood, which had premièred in October 2019. Little by little, as Covid-19 got more severe, things began to get cancelled and it became quite difficult because we didn't know how long things would continue to be affected and when we might be able to perform again. Week by week, we had to cancel performances and rebook them for later in the year, or 2021, and that in itself is quite hard. Ultimately as the pandemic has continued, a lot of these rescheduled performances got cancelled or postponed again.
We have now got to a stage where we just do not know when theatres will be able to reopen properly and consistently. The government has provided a road map, and we did get to stage four that meant that we could perform with socially distanced audiences but currently we have stepped back to only be able to perform for camera with no audience present. We need to get to stage five where things would get back to normal and allow touring to become financially viable again. Whilst at stage four, we held a two-week run of performances at Leeds Playhouse in October with socially distanced audiences, however with the latest lockdown, we are once more unsure of when theatres will reopen. Ultimately, since all of our performance plans for autumn/winter 2020 have slowly eroded away and many of our tour venues remain closed in the medium to long term, we know we won't be performing live again to an in-house audience until at least May 2021.
During the first lockdown over spring/summer, we had a hugely successful 'Pay As You Feel' digital season which raised over £40,000 in donations. Our Communications team recently won an award for this (Best Use of Content Marketing) at the Northern Marketing Awards. Moving forward though, we are now sharing new content on a pay-per-view basis and will continue to release new 'Pay As You Feel' content this spring.
It is a very challenging time for all of us. Looking back on when I started in this career, I have never been in a position where live performances were not able to take place. We would have breaks between our seasons, but I have never gone this long without live performances.
Has this had an impact on your dancers, and has it been difficult to keep them motivated?
From the beginning of lockdown in March we sent everybody home including staff and the dancers. We encouraged the dancers to do what they could to stay fit because we did not know then if they would be dancing again in the near future. They were all doing classes in their own homes, utilising whatever space they had. That continued through April, May and June. In July, as restrictions began to ease a little, we were able to get them back into the studios in smaller groups to begin training and rehearsing again. We put a lot of systems in place to make the building Covid-secure including one-way systems around the building, temperature checks on arrival and masks to keep them safe.
At the peak of the first lockdown, we placed 85% of staff, including the dancers, on furlough through the government's Job Retention Scheme which has absolutely been a lifeline for us. We received an emergency grant from Arts Council England during the summer, this was a fund created to ensure companies stay financially viable. We were also awarded a significant grant from the government's Culture Recovery Fund which will be another lifeline.
Overall, the Company is in reasonable health, and our supporters and donors have been amazing and continued to make contributions even though we have not been able to offer them the benefit of attending events. We have continued to do as many events as possible online.
Our biggest concern now is how and when will we be able to return to proper large-scale performances and what limitations we might come up against. How soon will we be able to tour again is another big question, since it is a fundamental part of our Company's ethos. When the time comes, we want our customers to feel safe enough to return, as without them we cannot make touring viable. In many cases, not performing is better for us financially compared with performing to socially distanced audiences. However, we are a ballet company ,and we should be producing, performing and touring new shows; that is what we need to try and get back to as soon as possible.
Would you say the financial planning is the biggest issue you have at the moment?
I think it is about trying to rationalise between wanting to get back to performing and looking at the financial risk of doing that. It is a risk to spend money to put a production together and then have no way to recoup it if you end up
not being able to perform or performing to a drastically reduced audience.
In some ways it may be taken out of our hands as at the moment, many of the theatres we perform at have decided to remain closed into early 2021 for safety or financial viability reasons, so we have nowhere to stage our larger scale works. Thankfully, many of our venues have also received funding from the Culture Recovery Fund to sustain them during their closure and we hope they will start to open again soon.
Venues have a balance of product like ours and commercial shows (musicals mostly). The commercial shows will find it more difficult once performances are allowed to take place again because usually, they would plan and book years in advance. As we go to the same theatres every year, we already have a slot allocated to us. This gives us much more flexibility when planning our tour and repertoire for 2021. As Geisha had only one performance out of the 60/70, we had planned, we hope to finally tour that in 2022. We had to postpone Merlin, which would have been our second world première of this year but have been able to reschedule that from this autumn to autumn 2021. Hopefully by then we will be able to perform as normal again.
What advice would you give to someone wanting to move into a role similar to you, or are already in that role?
Always look for the positive in any situation and always look for a solution. I think working in theatre is great, but I think that after the pandemic, it is going to become more and more challenging. For me though it has been a great choice. I may not earn as much as I would have done if I had stayed working with Barclays, but it is such a rewarding role to be in and an environment where you are creating something, and giving pleasure to so many people. There are so many exciting areas to get involved with working in theatre whether that is the technical/production side or in one of the administrative support areas like marketing, fundraising or finance.
The good thing about this industry is you do not necessarily know where you will end up. I started off at the bottom, but with my business background I managed to get to where I am now. I never regret the years at Barclays because without that time I would not now be able to run a £10M business. Northern Ballet is still a business but for me, the product is far more exciting than banking or producing a physical item. The only difference is that in my job it is the balance between not needing to create a significant profit but earning enough to support our creativity and to allow us to pursue our artistic vision.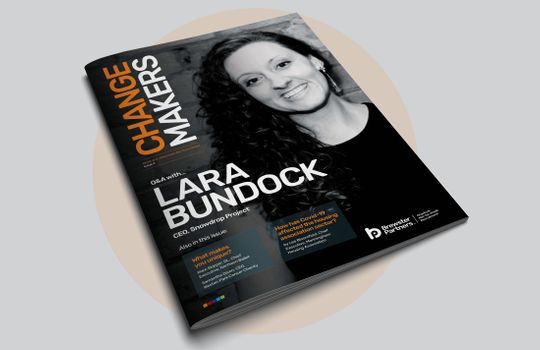 This article is featured in Change Makers magazine Issue 4
Share