What makes you unique?
Published: 14th August 2020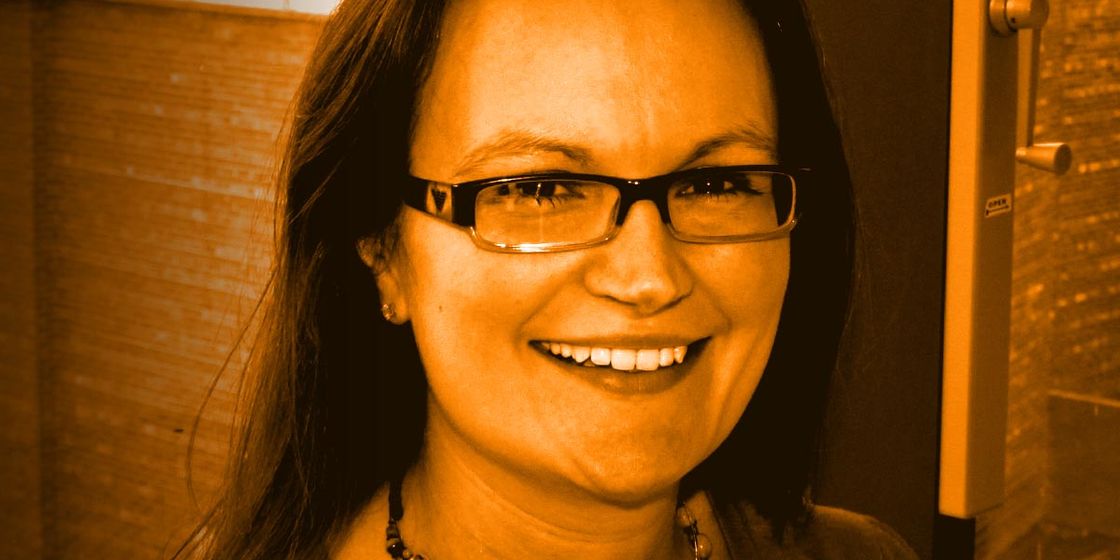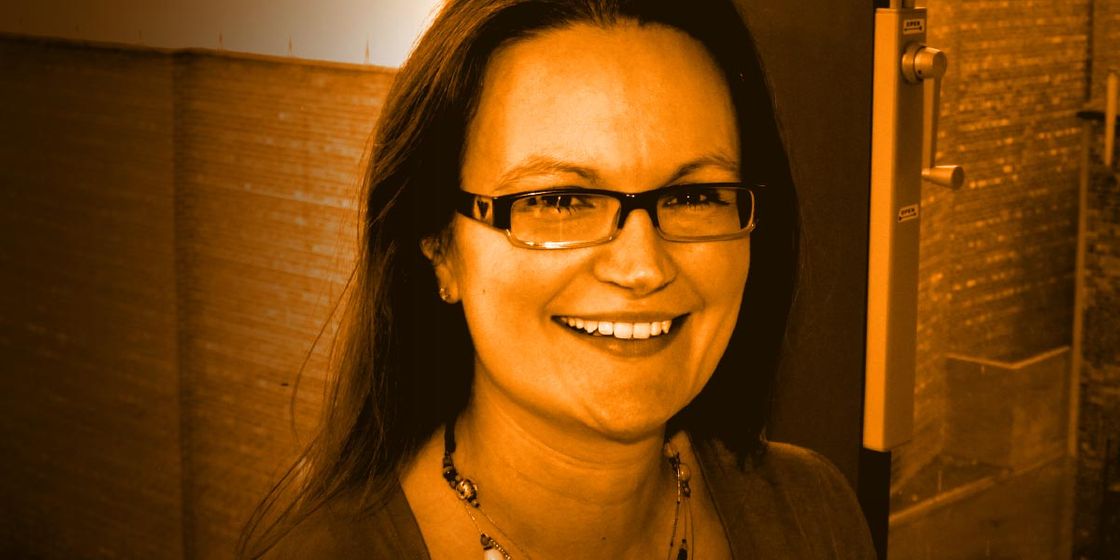 Q&A with Helen Ball, Chief Executive at Barnsley Civic Enterprise Trust Ltd.
Helen Ball is the Chief Executive of The Civic, an arts centre in the centre of Barnsley. It offers a combined arts programme and is also an events venue commercially which hosts weddings and conferencing. Helen lives close to the venue in Barnsley with her two children.
Helen is responsible for the development of The Civic in Barnsley in becoming a leading touring venue in the North and a cultural hub. Her background is predominantly in the public and third sector with extensive experience in leadership and transformational change.
She has a proven track record in organisational development and strategic planning, with a broad range of experience in managing people. Helen is passionate about the arts, supporting growth in creative industries and the transformational impact they can have on communities.
So, tell us how you got to where you are, your career to date and how it led you to your current role
Originally, I left school wanting to train to be an actress. I spent 18 months trying to secure a place at drama school, which was challenging and a real learning curve at age 17. I was eventually offered a place on a brilliant course at East 15, but was unable to raise the funds to cover the cost of the course. Eager to study, I took an undergraduate degree at Bretton Hall, with the intention of reapplying to drama school afterwards. In the end I came out of the University with a broader degree, which was not just acting training, and a wealth of experiences that opened my eyes to more career possibilities in the Arts.
On graduating, I worked freelance on community projects and youth theatre productions in Stage Management and Directing and I also had a chance to work with young people on education projects.
I took a part-time position alongside my freelance work within the Education department at Sheffield Theatres which opened more practical projects with young people and research and development work on schools-based projects delivered by the department.
This mixture of regular work in a Theatre venue and a range of freelance projects in diverse communities working with different age groups, backgrounds and cultures, really gave me fantastic range of experiences that I could draw on as I developed my career.
In the space of two years I had worked with some very diverse communities, different cultures and many young people. Entertaining and holding the attention of a large group of 13 years
olds for an hour is good practice for any profession.
My role at Sheffield Theatres was fixed term and, as it came to an end, I decided to look for a full-time role with one organisation.
A full-time Community Arts role became available in Barnsley, working for the local authority which enabled me to gain practical experience and learn more about arts administration and grant funding. I was successful in securing the role which was meant to be for only three years. I went intending to leave when it was finished and ended up staying with BMBC for seven years working in several different roles in the Culture department.
Around two years into my Community Arts position, a small re-organisation in our department took place and a management position became available to run the Arts Development team.
I was not sure about taking it, as I was about to go on maternity leave with my daughter. It was also quite a challenging time for me as it was the point where I moved away from practical work in the community and closer to arts administration. A role less about people and more desk-based strategic responsibilities.
I did enjoy it, but it was challenging. It was good for me to grow; however, it was also hard in a lot of ways as I missed interacting with the end-user and the customer experience. I think the further you go into local government, the further away you can feel from the end user. I did the role for about 18 months and then there was a leadership change in Senior Management in the local authority and the Assistant Director of the service, and my direct Line Manager moved on from his role. I was asked to take the role on an interim basis for six months and then shortly after, the wider Directorate created a Head of Service position which I applied for,
and was successful.
I went from managing a team of four officers with a small budget to managing a department of 72 staff, which was across a range of areas. My responsibilities covered the arts, museums and heritage, markets and town centre services and a workforce of both front-line and specialist staff. One of the biggest challenges was leading a service that included colleagues I had once worked alongside and collaboratively with. But I rose to it and enjoyed several successful years in the role which I am very proud of.
The experience was a big learning curve for me and, at times, was very hard on my family. At that point I had a two-year-old daughter and it was hard to get my work/life balance right. I was working full-time which I found difficult to begin with, but it was the right thing for me to do and it was an opportunity I simply could not turn down.
One of the things I have found challenging in the sectors I have worked in has always been the work/life balance. People do not often realise that local government and not-for-profit careers are all consuming. It is not about making money, it suddenly becomes more about 'if you don't do it, it won't happen'. There is a different type of responsibility to it, that I found intense to start with.
Not long into being in a senior position, I had to make decisions about people's jobs because the government changed, and we started looking at efficiency cuts. It was quite terrifying standing in front of a room of people who all do manual jobs and you know if they lose their job, they can't pay their mortgage and can't feed their children. You doubt yourself about whether they are going to believe that you are right for the job and that you know what you are doing. That experience had a significant impact on me both personally and professionally.
Throughout my time in the role, my Executive Director invested a lot of energy in me and my continued professional development. I went through three restructures, two of which my own role was reviewed. Throughout this period of development and change, I had my son, which gave me yet another challenge.
The benefits from all that intense change was that I gained a lot of experience in a very short space of time.
Being a young female leader, there is often a misconception made about me that I am too young to have the responsibility I have. When you look at my CV, you would think 'It is all Barnsley, she hasn't really been anywhere so how can she have much experience?'
What people don't realise is that by being dropped into that situation, I had to learn on the job. Nobody told me how to manage these large numbers of people, I had no hand over or guide. Everyone is looking at you
for direction.
In the past I have doubted myself at times or thought, people are going to look at my CV and think, 'I can't see what she has done'. That was my insecurity based on being young, that people might judge me before they met me.
I left local government to take up my current role at a time when the organisation was really struggling. I am now in my seventh year with the Trust and thoroughly enjoying the journey.
How do you think your past experience has prepared you for this role?
It gave me a sense of perspective. A lot of my peers have never worked in anything other than an arts organisation and have never worked in any environment where they have had to manage manual staff. A lot of my peers are not from the background I am from. I came from a working class, single parent family. I had my first Saturday job when I was 13 and I worked part-time all the way through my studies and funded myself.
I measure everyone in my workforce by their work ethic. I have always had to be prepared to do what is necessary to move things forward and need that from my team. A willingness to get stuck in.
That's how I could empathise and work with my front-line staff in my previous role, as I could see how hard they worked and that their job was no less important than mine in terms of trying to deliver something.
It also gave me HR knowledge and the ability to see through challenges. Some people who have worked in a certain place for a certain length of time are in their own world, and they see change or new leadership as an opportunity to push the boundaries.
Working in local government also helped me understand how the town and community work, which is important. You need to get to know the communities, discover why the people are the way they are, to understand the
choices they make especially if you are going to build audiences.
As a cultural leader there is always the challenge of getting people to believe in you and what you want to achieve with your venue or organisation. Understanding the community we serve is invaluable in meeting that challenge.
What has changed and how has the sector evolved since you first joined?
What I have sought to change at The Civic is accessibility and people seeing it as a place where you can choose to bring your family and friends. It's not an elite place, it is there for everyone. One of the first things I wanted to do was get as many people in that building as possible to see what is there for them – community groups, schools etc.
I am very proud of The Civic, proud to run an asset that has served the community in many ways over 180 years. It has a variety of things happening in it. We put shows/exhibitions on, but we also have Weight Watchers in every Saturday morning. People can use it for what they need it for.
I am seeking to build and maintain a sense of community within the venue and I am still striving to achieve an Arts Centre that is truly a destination drawing people into town, as we look ahead with our plan for the next ten years
As a sector, funding has got a lot harder for everyone. We have had to try and be more commercial to increase trading income, but still retain our artistic integrity.
The balance has got harder to achieve with the economy facing the problems it has. Someone might only have £10 to spend and want to take their children swimming or to the theatre, but they can only do one or the other. We are also competing to a degree with digital technology and with services such as Netflix that you can watch in the comfort of your own home. That has been the biggest change.
You have got to fight to be heard now and you have got to work hard to stay relevant to your audiences.
What you are currently doing, and what do you think is going to be the impact on the region, before and after Covid-19 and what were your priorities before and after.
We are working towards developing a scheme to complete the building and we need to raise £7.2 million to complete it. The local authority has a long lease on the Victorian front part of the building which is due to finish in 2022 and we were working towards being able to reopen a fully refurbished building from then.
A lot of the work up until February was working with the design team on the plans for what we want to do, which includes restoring that Victorian front as our main entrance and doing some conservation work to the front of the building. We are working very closely with the local authority and they secured the funding from government for Eldon Street to be a High Street Heritage Action Zone. We are included in the scheme to improve and conserve the historic high street and this will both enable us to carry out vital conservation and refurbishment work to the front phase of The Civic and lead a cultural engagement programme with local partners that the community can get involved with.
The project has been on pause since Lockdown started and I am unsure about when we will be able to reopen and operate as we were before.
Theatres and entertainment venues will be among the last to re-open as Lockdown eases. This presents a challenging financial picture for our sector, although we have benefitted from things that have been published for small businesses generally, such as the Government Job Retention scheme and a business rates holiday.
Arts Council England are also making available significant levels of emergency funds that we can access, however it is important to note these are Arts Council's original funding allocations for 2020 and not a new initiative, which could reduce future funding opportunities.
At present all we can do is think about a recovery plan and different scenarios that we may face. I have discussed with our chairman whether we might need to fulfil a different need for Barnsley in the short-term. The building has always been there for people when they have needed it, soup kitchens, housing troops, education etc. We might have to consider doing something like that again. There is always that worry that we might be in a situation where people can go back to work or school, but we can't trade. I have got a scenario where I have got staff to try and pay who I can't give work to, or I have got to try and find them other things to do until we can do our jobs.
For me in this situation, the priority must be keeping the cash in the business so I can protect my staff for as long as I can. I have noticed a lot of my fellow venues using digital programming to keep content in the public domain, however, we are not as resourced to be able to do that, so, I would rather save money to do something really positive when we can reopen. My current priority is the people that work here, perhaps even above the art.
What advice would you give to someone coming into this organisation before and after Covid-19?
My advice is to be prepared to make your own work or look for opportunities. There can be a culture in our sector of waiting for the work to come to you or expecting opportunities to fall in your lap, which they generally don't.
Right from training at Bretton, it was drilled into us that you need to have a survival instinct, especially if you want to perform or work on a self-employed basis. You must be adaptable and work well with people.
In terms of operating a venue, it is about remembering that you are more than just the work that you put on. The work we programme, the exhibitions we create and the experiences that we offer is what sets us apart from any other charity. It is nothing if no one engages with it or it does nothing more than just give people employment.
The way we structure our programme is very much about offering experiences. We will entertain you, but we may also challenge you or provoke debate. We have a bigger role to play than just being a place of entertainment. We must support our community to raise their own voices and express their own creativity.
There will be an opportunity soon to get people more involved in what they want to see in our venue. That is something I wanted to do with the capital redevelopment. Part of that journey is about inviting people to come and see what we are planning to do with the venue and talk about what they would enjoy. It is important to see what you can do to offer people opportunities. There will be freelance creatives in South Yorkshire that have lost all their work in the space of three months, so there is a responsibility for us to see if we can support them as well.
We are an important part of South Yorkshires cultural ecology and its COVID recovery.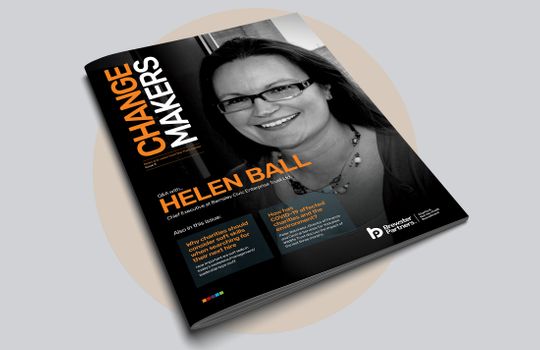 This article is featured in Change Makers magazine Issue 3
Share