Top tips for successful return to work planning
Published: 4th August 2020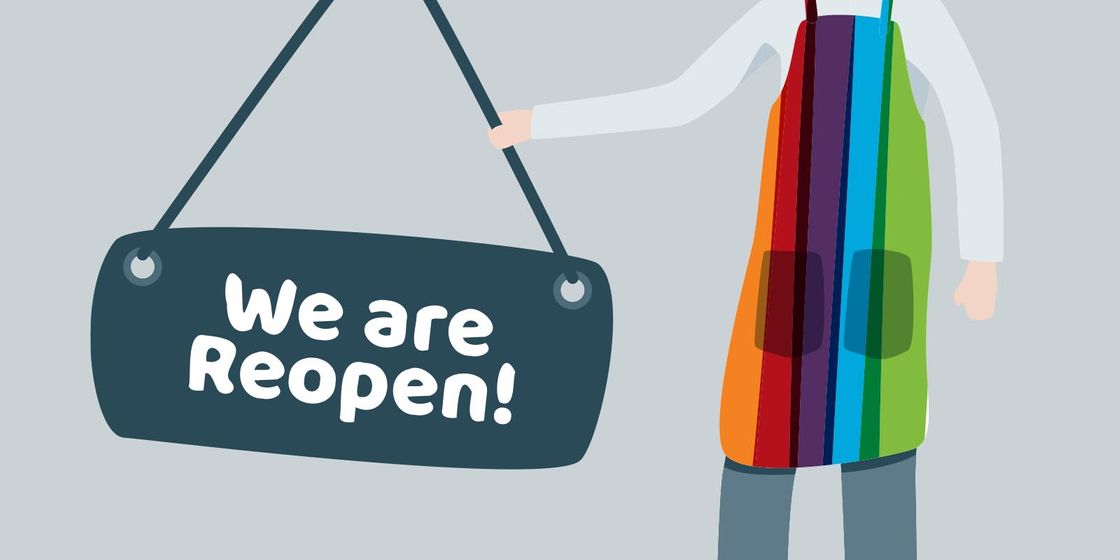 As the government's lockdown measures begin to ease, many organisational leaders are beginning to consider what this means for their business, employees and working practices.
There are undoubtedly many organisations that, since the introduction of lockdown, have adapted quickly and positively to working remotely or in a different manner to what was considered "normal" before the pandemic began. There are others however, where the concept of remote working simply hasn't suited their business model or their employees on the whole.
Following the Prime Minister's recent encouragement of businesses and employees to return to work, simple and honest questions such as "how?" have been at the forefront of minds.
Whether you're planning to bring everyone back to working in the environment they experienced pre-lockdown or you're considering a hybrid, more flexible arrangement, it's absolutely crucial that you prepare.
With this in mind, the following pages are our 11 Top Tips for successful return to work planning.
Team work makes the planning work
It's undeniable that Covid-19 has impacted the world in a whole manner of ways and on an unprecedented scale. Whether this has been an effect on our physical health, economic prosperity, job security or social freedom.
And it's also safe to say that many of us have never faced a crisis of this nature before and we quickly found ourselves in strange, unchartered territory. For this reason alone, it's crucial that the return to work planning undertaken by any organisation shouldn't be the sole responsibility of one individual.
With the sheer number of factors to consider (which will be covered in later points), it's crucial that you have a number of heads around the planning table to ensure that responsibility and workload is shared and ultimately you consider multiple viewpoints in your planning.
Unique people
As you consult with your employees and discuss their individual thoughts in relation to returning to work it is important to remember that each individual will have felt the impact of the pandemic in different ways.
For many, the extended period of social distancing and isolation may have had a significant impact on their mental health and any anxieties or worries they may have about returning to work need to be considerately addressed and recognised. You must also consider that employees who have underlying health conditions need to be identified to ensure any plans to return to work wouldn't put them at a greater risk of infection or harm.
Speaking to each individual, documenting and recording their own thoughts and suggestions is one of the most important parts of the return to work planning processes. It is here that you will not only identify any concerns they may have from a health and wellbeing perspective, you'll also uncover any logistical transport or childcare concerns and any other factors that will impact an individual's ability to return to work.
It's never a good idea to take a 'one size fits all' approach, so where possible try to acknowledge and work with each individual to ensure you establish the best process for everyone.
Research – do the digging
During the height of the pandemic, particularly as we first entered into lockdown, information was coming in thick and fast and if you're not a public health expert, it could be pretty confusing.
One of the most important parts of any planning, is the research. It is incredibly important that the information you are using as the basis of your decision making is as accurate and up to date as possible.
From quite early in the lockdown period, we have benefited from daily government briefings which, although these have now reduced in frequency have been a helpful source of information in the first instance.
Alongside keeping up with government briefings, checking the Gov.uk website will ensure that you have sight of any recent developments that may impact your return to work planning. The guidance issued by Public Health England and the NHS are also invaluable in building the necessary base knowledge of the virus to understand the scale of what we are tackling.
When it doubt, ask about
Often one of the most powerful things you can do in any challenging situation is consult with your peers. There is a strong possibility that people in your network are either facing the same challenges as you, coming up against different ones or they could even have overcome them.
Getting in touch with your business and also your personal contacts to share best practice, ideas and strategies can be an incredibly valuable exercise.
As well as speaking to your network, it's important to use any expert professionals around you. If you're concerned about whether you're doing the right thing, speak to the experts. Solicitors, accountants, CMI and the CBI should all be valuable sources of information. As members of the REC and APSCo we ourselves benefit hugely from their Coronavirus resource hubs that have been regularly updated throughout the pandemic so check out what your industry specific bodies and confederations can do for you.
Make use of what's available
You may want to, but you don't have to re-invent the wheel when it comes to documentation and signage.
There are tons of resources, templates and documents at your disposal to use when planning and orchestrating your return to work. These are often free to download and readily available on numerous sites.
The CIPD have a good range of supporting materials and you can access easily downloadable signage options at various websites such as this one. Again, if you're unsure whether your documentation or signage isn't fit for purpose, speak to an expert or check the Government's guidance.
Assess and mitigate risk
Once you've spoken and consulted with your employees and built your planning team. It's important that you specifically take time to consider, assess and mitigate the risks covid-19 poses to your workplace.
A carefully thought out, thorough risk assessment needs to be completed and also shared with all employees so they can not only know what to expect, they also are aware of the reasons why they need to comply with measures you have in place.
Performing a thorough risk assessment is not only a legal requirement, it also shows careful consideration of your employee wellbeing and safety considerations. From your risk assessment you can then carefully construct additional 'return to work steps' for your employees to provide additional clarity on what they need to do and be aware of when they return. For industry specific guidance, check out one of the government's 14 different guides here.
Less speed, more haste
Do NOT be fooled into rushing into things on the 1st August. There is no reason to create yourself a hard deadline. It's important that any significant changes are done in a measured and controlled way as the health, safety and wellbeing of your employees should never be compromised.
After consulting employees to determine how they feel about returning, it's important to honour any concerns and ensure that the processes you put in place are reasonable and achievable. There may be some employees banging on the door, desperate to get back into the workplace, and however tempting it is to appease these pressures from employees it's crucial that you set reasonable expectations and work at a sensible pace.
It's so important that your time frames are sensible as you not only have to plan, you have to prepare the necessary documentation, source any sanitising provisions/PPE/signage and then physically set the workspaces up.
One thing to consider, is implementing a multiple-stage return process, which enables you to track progress at regular intervals and check that the measures you put in place are sufficient and well received.
Keep your records pristine
In line with the track and trace initiative, it's a good idea and very much the best practice to keep a clear record of who is on your company premises at any given time.
This way, you will always be aware of who has come into contact with one another which is crucial if someone unfortunately became ill and contracted the virus.
Setting up control groups and working 'bubble's is a good way to mitigate the risk of the whole workforce being forced to self-isolate if someone gets the virus. When consulting with employees about their return to work preferences it's a good idea to ask what days in the week work best for them to return, this way you create bubbles who work together on specific days.
Stock up and put up!
It's important to ensure that not only have you done the necessary consultation with employees and planning before workers return it's important to have the offices set up with the necessary provisions too.
After assessing the risks and completing your risk assessments you should have a clear idea what additional provisions you will need to ensure that the working environment is as safe as possible.
You may be looking to acquire provisions such as:
Hand sanitiser stations
Surface sprays and wipes
Gloves & face masks
Protective screens
Individual hand gels
Social distancing signage
Tape
Etc.
The specific equipment and provisions you need should become clear once you've established what you want your organisation's return to work process to look like. The government's industry specific guidance will aid with this.
It seems obvious that you should have equipment ready before people return, but it might be tempting to get started with the process under the premise that "things will be arriving soon". Don't. Ensure that everything is ready and available before your employees arrive at the door, get it right, not nearly right.
Reflect and seek feedback
At each stage of your return to work planning it's a good idea to seek continuous feedback. It's important that you document and address any concerns or questions your employees may have as the days and weeks progress.
This really is unchartered territory and there is no clear roadmap so employee feedback is ultimately a great measure of success for your planning. Before employees step foot in the door make them aware that feedback is welcome and also provide them a means of providing anonymous feedback for those who may be less comfortable. (Google or Microsoft forms are a great way of facilitating this.)
With consistent feedback, you have the opportunity to make sensible and necessary adjustments as needed and identify any potential problems early. It's also good to receive confirmation that what you're doing is well received!
Communicate
In times of crisis, like this current pandemic, it's important that your employees feel like they are receiving reliable information, regularly.
Which is why it is crucial that communication levels are high and all staff members feel like they ask questions or voice concerns. Any changes to the processes you put in place must be accurately, clearly and efficiently communicated to ensure there is no confusion.
A good idea is to provide regular updates via email or conference call whilst also issuing and displaying clear guidance to support this.
Employees who trust that you've done your research and considered all factors will ultimately result in a comfortable workforce who are happy and willing to operate in the safe working environment you create.