The latest edition of UP (Sports, Leisure & Hospitality) Magazine is out now!
Published: 18th March 2021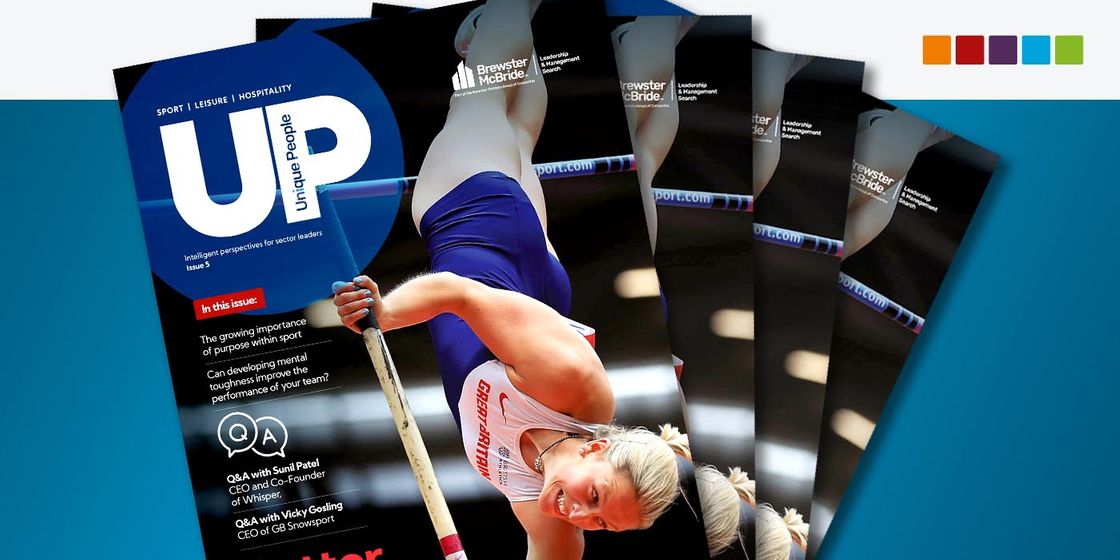 Brewster McBride, part of the Brewster Partners Recruitment Group, are delighted to share with you our latest edition of UP Magazine, dedicated to the Sports, Leisure and Hospitality sector.
In this edition, we are delighted to lead with a feature dedicated to the ground-breaking partnership between PricewaterhouseCoopers (PwC) and British Athletics. We spoke to three leading figures involved in the partnership – Alex Cooke, Data Intelligence Partner (PwC UK), Tommy Yule, Head of Performance Support (British Athletics) and Scott Simpson, NPI Senior Coach, Pole Vault (British Athletics)who discuss the use of data and analytics to inform the important decisions that influence athletes' performance whilst aiming to increase medal-winning opportunities from their World Class Programmes.
We also interview Sunil Patel – Co-Founder and CEO of Whisper, one of the fastest growing production companies in Europe. Co-owned by TV broadcaster Jake Humphrey and former F1 driver and current F1 commentator David Coulthard, Whisper produces a raft of top-level sport including Formula One, International Cricket, NFL, International Rugby and Women's Super League, plus documentaries such as The Talk and Inside Monaco.
We have a Q&A with Vicky Gosling OBE. Victoria is the CEO for GB Snowsport, Custodian for the Rugby Centurions, a Strategic Advisor to the UK Invictus Games Delegation and is a Board member of the British Olympic Association. She has had an outstanding career to date with many achievements, including being the CEO for the Invictus Games 2016 and the Military Project Lead for the first Invictus Games (London 2014). She has completed 21 years' service within the Royal Air Force culminating with the prestigious rank of Group Captain. Her achievements have been recgonised nationally through the Awards of MBE (2004) and OBE (2014). She discusses her career to date, the key challenges for the organisation and athletes and her vision for 2021 and beyond.
We also hear from Lloyd McMillan and Tim Davy of sports marketing agency E10 who discuss the growing importance of purpose within sport and positive change and sustainability within sporting organisations.
And finally, we catch up with Paul Trainor. Paul is Managing Director of Positive Synergy Ltd. and also a Director at Salford Red Devils Rugby League Club who asks, could developing mental toughness with the members of your team be a key part of your strategy to find the next stages of improvement within your organisation?
Click here to download your copy from the Publications section of our website.