Q&A with Stuart Cain
Published: 12th June 2020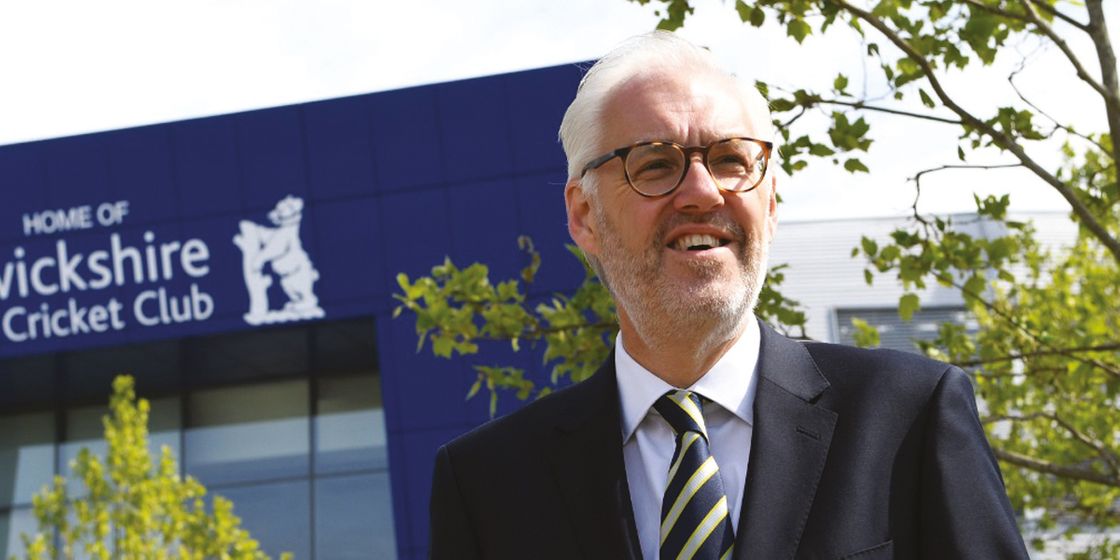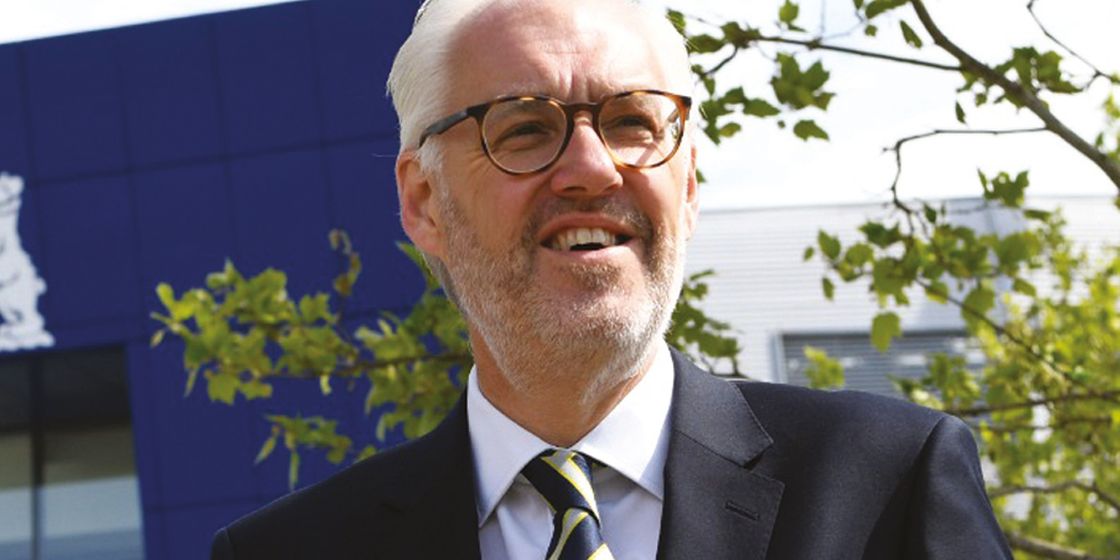 Can you give us an overview of your career to date?
I started off, much to my dad's regret, by turning down a place at university to go and work at a small advertising agency in Wolverhampton. After a few years I moved to Birmingham to work for different PR agencies and whilst there was approached by Bass Brewers to work in their Communications Department. I was a 25 year old lad who was offered free beer so… "Where do I sign?" I said. Off I trotted to Bass, (it became Molson Coors later), and I soon moved across into the marketing team and ended up as the Head of Sponsorship. I looked after the relationships with the Carling Premiership, Carling Cup and we sponsored the British Lions. We also had the Rangers and Celtic shirt sponsorships.
As I progressed, I soon became the European Marketing Services Director - this was when Molson Coors took over. I was responsible for driving the strategy for Carling and Grolsch brands, and a large part of that was based around exposure in sports & entertainment.
When Molson Coors took over the business it was brilliant but they were based in Colorado, so, for the senior team there was a lot of jumping backwards and forwards. It was difficult being in Colorado with a young family back in Staffordshire. I started to think about trying to find a new role closer to home. I knew the Chairman at Wolverhampton Wanders FC, Sir Jack Hayward. Over the years, I'd done the beer deal with Carling at Wolves. He said to me: "Listen, we've just been relegated from the Premier League, would you like to join us?" I'd enjoyed the sports marketing side, the role I'd done with Carling, so I joined Wolves as Commercial Director.
I worked with Wolves for a couple of years, which was fantastic. Back in my Molson Coors days I lead the sponsorship deals with Rangers and Celtic, I was approached by Rangers' Chief Executive, Martin Bain, who asked me to join the club saying "We thought it was interesting when you went from Carling to Wolves, but we thought we'd wait and watch for a bit, you see a lot of people go into the commercial world of sport and don't last". They asked if I wanted to join them at Rangers as Commercial Director. At the time they were in the Champions League and my family are Scottish - so I moved up to Rangers.
My next move was to Mindshare, a global marketing consultancy and part of WPP which was brilliant. It was an international role and I quickly got a reputation for contract negotiation so ended up working in America with the NFL and MLS, FIFA in South Africa and took Arsene Wenger to Beijing, Kuala Lumpar and Singapore.
Then my wife said: "Come on you've done it again - got yourself a job where you're away, more than you're at home." So, I started looking for something which involved less travel and was introduced by a music-Promoter friend to Paul Thandi, Chief Executive at the NEC Group. He asked me to join, looking after music and venue marketing for a range of business and entertainment venues. I was then promoted to Managing Director of a new business unit - Commercial Marketing - where I developed The Ticket Factory into a national ticket agency and launched Eight Feet Tall, a specialist events media and sponsorship agency.
After seven years at the NEC Group and seeing it go from local authority to private equity ownership it was time to move on. I met with Derek Richardson at Wasps Rugby who said; "Come and join us – you've got a strange mix, you've got the sports experience, also the exhibition and events experience, why not use those together and help us at Wasps & the Ricoh Arena.
Having spent the last three years at Wasps/Ricoh, an opportunity presented itself to join Warwickshire County Cricket Club as their new CEO. Roles like this don't come up all too often and I was delighted to be offered the chance to join the club and start my new role there in August 2020.
The country and industry are currently experiencing unprecedented times, how is the business adapting?
It's been interesting. The NHS set up our area's first Coronavirus Testing Centre at the Ricoh Arena, which went live on Monday 20th April. That's been really good to be involved with and they've been very engaging with lots of communication.
A week after opening, Public Health England took over the operation and they're very different, they now handle everything with very little need for us to be involved after helping them expand their operation.
Across the Arena we have gathered a substantial amount of excess food & drinks stocks that we hold in the hospitality areas, normally reserved for match days and events. The Wasps Rugby Squad have been dropping off food packages to shelters, charities and organisations across the city. We will do everything we can as an organisation to support the local community at a time like this. We have used our digital channels to communicate and engage where we can.
You see some organisations doing that a lot better than others at the moment, but the industry is doing the best it can with the resources it has available.
You currently have NED roles at UK Athletics and the Rugby League World Cup 2021. What was your reasoning behind taking on the additional responsibilities alongside your role at the Ricoh Arena?
I wanted to broaden my experiences and learn what it felt like to sit on the other side of the Board Room table as a Non-Exec Director. It's also helped me develop new perspectives and expand my network as I've met people I just wouldn't come across in day-to-day life.
Working with the Rugby League World Cup or UKA you're suddenly sat in board meetings chatting to people and sharing ideas. Ideas where you think "Bloody hell, I could do that back at Wasps". I always treat those roles as part of my ongoing development really. Where you can learn things and meet new people. I think sitting on a board, rather than being an executive reporting to a board, is very different. I've learnt a lot about what I can do for the Directors at Wasps, so I think it's good for people to have another interest if they can fit it in. It's a bit like having a hobby, it's a bit of a breathing space, and these are different people and different conversations that can refresh you every now and then.
It's a game of balance, I probably wouldn't have two NED roles at the same time as my role at Wasps normally, but it's just timing as the UKA role came up last year and it's an opportunity that really interested me. I can keep a balance between the Non-Exec role and the CEO role, I think that's important for people when you get to a certain Exec level. Try and have something that's slightly different and just gets you out of your comfort zone.
How do you combine the three roles? Do the NED roles offer flexibility in regards to the amount of time you have to commit to them?
You can juggle it and fit it in, I do chunks of work at the weekend and evenings but they're all related really within sport. You may be dealing with different people, but it's still the same type of mentality, so you haven't got to flip from being a Non-Exec of an insurance company one week to an exec of a manufacturing business the next. You don't have to compromise yourself, that's why you have to put the effort in, you can't let your Non Exec job effect your day job.
What career advice would you have given your 20 year old self?
Hard work only goes so far, you've got to stop and look at the bigger picture every now and then. I think some of the most successful people I meet don't go 100 miles per hour, 10 hours a day, but they pick the right things to do at the right times and some of the most successful people I know work hard but that might only be for three or four hours a day. They then find time to relax and play golf etc, but those three or four hours a day have been spent doing the right thing and driving the right result.
When you start your career, you're still very task driven, you think 'What am I going to do today', then you plough through it. That's brilliant, but you've got to sometimes step back and think about if you are focusing on the right things, am I doing the right things, and am I getting the right result? I've learnt to take time to enjoy what you do, especially in the sector we're talking about.
We shouldn't forget that our jobs could be a lot worse. We're dealing with sport and entertainment - look at the pressure the NHS and key workers are under at the moment. So, when I see people in our world stressed and getting a bit precious I try to help them retain perspective.
A great example was the recent draw for the Rugby League World Cup with Prince Harry at Buckingham Palace. The event was planned meticulously by the team and when you've got royalty, a live TV broadcast and the world's media watching (it was his last public engagement) then it's easy for small things to become major problems. Just before Prince Harry arrived, Jon and I went in to a small room on our own and I said that we should just relax, take in the surroundings and remember where we are and what we're doing. It's probably not an experience either of us will have again so we should spend some time to be present, enjoy the moment and create a positive memory for ourselves and our families. Taking that time just helped us both reset and focus on what was important and the moment. Needless to say, it went brilliantly and was a great platform for the draw.
So, I do think people in any sector should sometimes stop, take stock, appreciate what's important and re-focus. For us at Wasps, that's stop and watch the rugby for twenty minutes or take in a few songs at a concert.
Is there anyone you have worked with that has inspired you?
I've worked with some really good people, Julia Willoughby at a PR agency in Birmingham taught me about entrepreneurialism - she's a great lady. Julia established her own business, built it very successfully and I think she gave me some of my commercial attributes.
The formative years for me were spent at Bass/Molson Coors. I worked with Mark Hunter for a while, he ultimately became Chief Executive. Mark was really good, he helped me with the people side of the role and he had a particular phrase he used. I won't lie, I was a bit of a character when I was younger, he pulled me to one side and he just said listen… "You can't ride your Grolsch bike around the office anymore (the bike was a promotional tool we used for the brand). When you reach the level of chairman's list, (which is the level beneath the main board) you have to remember now that you cast a big shadow, whatever you say and do now will get over analysed because you're part of the leadership team."
I didn't quite know what he meant when he first said it. But over the years I've learnt that if you're the Chief Exec of a business or a senior leader and you walk around the business and make a sarcastic, throwaway comment that you think means nothing and somebody hears that, it could mean everything to that person.
When you reach a leadership level you really do cast a big shadow, and you have to think really carefully about how you act, what you say, and how your words and actions are interpreted, because they take meaning 'in a life of their own' which they didn't have when you're at a more junior level. I think that's made me a lot more careful about how I do project myself, and I have to check myself every now and then because I still have that thought of going round the office on my bike. So, I've got to be a bit careful.
I think Jez Moxey at Wolves FC was great for me as well, he's very commercially astute and he probably hardened me up a bit. Jez deliberately put me in some tough situations where I had to either sink or swim, which was great. Paul Thandi at the NEC was good as well. He was exceptionally charismatic but amazingly disciplined and exceptional at keeping track of what's important and then refocusing the business as well as key people - including myself. I think that ability to re-focus is a key leadership skill.
What are the key traits that you think make a good leader?
Ability to keep your eye on the prize, focus and refocus. Are people doing things in the right way at the right time to get the right results. That constant focus and refocus on what's important and the ability to transfer this focus to teams properly, so you get everyone walking in the same direction.
You also need to manage the tempo, you can speed things up when you need too, you can slow things down, you can make it louder, you can make it softer, but you've got to create that orchestra conductor mentality. You need to get that balance right and be able to stand outside the business and work out when to turn the temperature up, or speed things up, or down. You also need to really understand the business you're in. Get to know the processes, understand how things work, get out to see the customers and suppliers. I've been caught out a few times in the past by not having a firm enough grasp on how things work in the real world and that's a problem if those in the Board Room tasked with making decisions don't really understand the implications.
People skills are obvious - being able to talk to people at all levels and also being able to listen. This goes back to what I said about understanding the business. A guy on the shop floor can quickly tell you if something will work or not. Listen, it could save you a lot of grief.
Finally, I would say that you have to wear the crown well, don't let the pressure get to you and show too much. Sometimes it doesn't hurt to show a little bit of anxiety but there's times where I've walked to the coffee machine with the weight of the world on my shoulders and a colleague who is a really important guy in the business wants to stop and talk for a minute and you think "Does he realise I've got all this stuff to sort out and you want to talk about the bars on Saturday and how we stock the fridges, this isn't important." But actually, it's everything to him, so try and wear the crown well and give that person the time they need.
The Ricoh Arena is a unique venue with the stadium, hotel, indoor arena & casino etc. As a leader what are the day-to-day challenges that you have in a business like that?
Operations like the Ricoh Arena and the NEC are about large-scale events and large scale gatherings whether it be about sport, trade exhibitions or concerts. The logistical principles are the same, how do you get large amounts of people into a space quickly. Whether it be a rugby game, a concert for forty thousand people or a trade exhibition for ten thousand - there are some core obstacles across all of them. You start to think, how do you talk to different audiences and you have slightly different logistics around different events, but overall, it's the same conundrum.
It's about safely getting people in to have a great time then getting them out again.
Was there a stand out moment that put you on the track to achieve what you have?
Back in my Bass days, I was relatively young, running at 100 mph, ten hours a day, drinking Carling and enjoying life! But it was Richard Scudamore at the Premier League that made me think more about the bigger picture and what's important, particularly when it comes to the role of relationships in business.
As sponsor of the Carling Premiership we would take journalists to Europe each year on a PR exercise. We went to Porto one year, just as we were re-negotiating the Carling Premiership deal and it was a tough time in terms of what both parties wanted from the deal.
We invited Richard Scudamore and understandably he couldn't make it due to other commitments. However, he turned up out of the blue with Keith Pinner - one of football's great behind-the-scenes characters - and said: "Listen I'm really sorry I can't stay for the whole event, I've got to fly back tonight but I wanted to have a few hours with you, discuss where we are and show to journalists that your relationship is important to us."
We sat and talked then when he left I realised that he didn't have to do what he'd done, but he understood the importance of the relationship and making a symbolic gesture. He could also see the bigger picture and saw this as a good investment of time.
Him making that effort to jump on a plane definitely helped us get one of the biggest sponsorship deals in British sport at the time, over the line. It taught me not to fill my days with tasks but what was important and never to under-estimate the power of a gesture or the need for strong relationships in business.
I've tried to remember this in every job I've had. Maintain focus, build strong relationships and do the right thing. I've probably got Richard Scudamore to thank for that and he doesn't even know it.
Is there one thing you would change or do differently looking back at your career?
Career wise, not get distracted. It's easily done in sport/entertainment as there are always new opportunities on the horizon, particularly in your career. You can get a call and think 'Oh, I quite fancy that' or 'that could be fun' and there was a period in my career where the phone was ringing quite a bit. You get distracted and stop focusing on your job properly. Yes, if someone rings up and it's the right thing, grab it. But if it's not, don't just do it for vanity, because you're wasting yourself and other people's time, and more importantly distracting yourself.
For a period of time I was a bit like a magpie. It's quite easy to take your eye off the ball a bit and you forget that the grass is often greener where you're actually standing. I'm not saying don't pursue opportunities, but pursue them carefully. There was a time whenever the phone rang, I'd think that sounds great, and then go on a wild goose chase for two months, and it isn't worth it. Know what you want and go for it, but don't get distracted.
You are set to join Warwickshire County Cricket Club in August as their new CEO, what appealed to you about the role, and what are the specific challenges ahead for the club and venue?
I've had a brilliant three years at Wasps but this is a chance to work with a great Sporting Director, Paul Farbrace, and help him and the team at Warwickshire CCC return to winning ways on the cricket pitch.
Off the field, there's an equally impressive team and plans to continue the development of Edgbaston as a world-class facility. They have ambitious plans for the wider estate masterplan and we share a similar view on the role of sport in the community, particularly when it comes to diversity and inclusion.
Cricket is also going through an interesting time as it launches new formats such as the Hundred. Add all of this together and it was the right time to move. Won't lie, it's going to be challenging, particularly as all sports try to navigate a way through the COVID-19 pandemic, but behind every great challenge is an opportunity. Not sure who said that, but admire their optimism.
What are the challenges facing the sports and entertainment sector, Post COVID-19?
I'd probably say there are about four key ones, the first being what's your purpose? I do think the whole 'community' piece is going to come out more and that organisations are going to demonstrate what more they can bring to society & wider community. So, I think finding the purpose of the role that we play in a corporate community, as well as the social community, is crucial.
Then you've got to work out how that purpose can be integrated into your business model. It's one thing saying this is what you do, but you have to facilitate it. So, people have got to start looking at their business models again. If we can't play to crowds until January 2021, then what does a season ticket look like. Do you still sell season tickets for a season that kicks off in September or do you save it until the season can kick off and how do you market that?
You've got to look at the operational side of your business and what the social distancing will look like for sports and concert halls. How do you serve food and drink, do you have it served to seats, click and collect so you don't have queues, mobile payments only so there's not cash handling? If you've got staff working behind the counters in tight spaces and fans in queues on the other side, how do you manage that safely for both parties? That will change the shape of your business in terms of staff numbers but also revenues if the speed of sale goes down.
The last bit is around confidence, how do you give the visitor confidence that it's safe to come to your venue. I do think even when restrictions are lifted, there's going to be a large number of people that will be nervous about attending large scale events with lots of people. So, how do you give the customer, client, or fan the confidence to come back into your venue?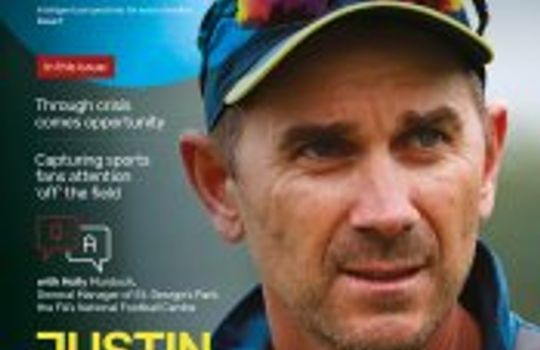 This article is featured in UP Magazine - Sports, Leisure & Hospitality Issue 1
Share