Q&A with Sara Cox
Published: 15th December 2020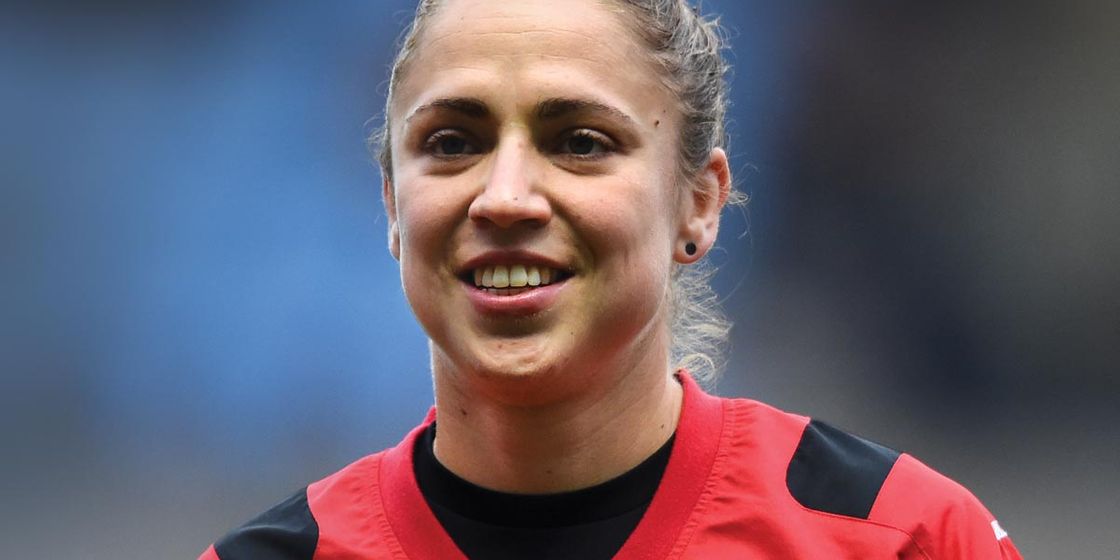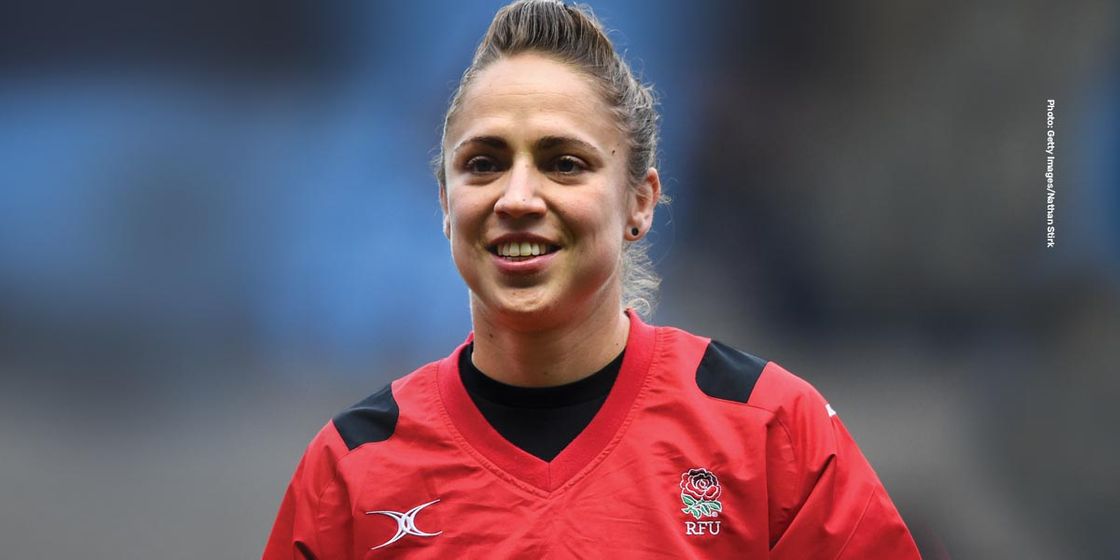 Sara Cox is an English rugby union referee. In 2016, she became the world's first professional female rugby union referee, and in 2018 she became the first female to referee a Premiership Rugby Cup match. Neil Edwards, Client Director at Brewster McBride, caught up with Sara to discusses her career, her aspirations and the lessons she has learnt during her journey so far.
Can you talk us through your career to date?
I'd played rugby up until I was about 17, I'd had a couple of England trials but I never made it and on reflection I realise it was probably because my heart wasn't in it. This pushed me to start looking at different sides of the game, because I was keen to stay involved in rugby. I first thought about coaching, but I realised that I didn't know who I was at that age, I'd only just finished school and I was focussed on finding a career that paid the bills, so I decided that I couldn't be the person needed to help sculpt the lives of those I would be coaching. I then looked at refereeing, as I knew this meant I'd still be able to be on the pitch and be able to be somewhat involved in matches. I started a condensed course over a couple of weeks, and from that I've got to where I am today by climbing the ranks. It was rather difficult being one of very few females at the time, but I stuck with it and I have now done things I could never have expected.
Looking over my career, I didn't expect to end up being part of so many international events, it wasn't something that was on my radar. Being selected for the commonwealth games, Olympics in Rio and three World Cups wasn't something I even knew was possible when I started. Nothing in my career was planned, because I didn't know it could be achieved, I just worked hard, found things I enjoyed as I went along, and now I'm making a debut on the side line for a premiership game, which is something I'd also not expected but it's absolutely wonderful.
What's been your pathway to becoming an elite international referee?
When I started, my pathway was created through my society and then refereeing on what was called the federation at the time. I was then selected for what's called 'group' and it eventually narrows. Once you're working on the better level games and build your experience, you are selected for the national panel, which at the time meant I had to prepare a portfolio of my games and reports and undertake an interview as to why I wanted to become part of the national panel. It was a bit like a job interview.
Once I had done that, I progressed through the levels alongside an international career, and I was refereeing in the Championship. Then more recently, I was appointed to the Premiership as an assistant. Alongside the championship and women's international refereeing I earned my 100th sevens match appointment. It doesn't happen very often, there's only three of us that have done it, so it is a benchmark that I am proud of.
What are the specific challenges that you faced as your career has progressed?
I think that's a twofold question because there are challenges in anything you do. I was lucky enough to be picked up by a company that was happy to let me continue my rugby career alongside my job. Looking back, I'm not entirely sure how I managed it as that within itself was a challenge as it was difficult to manage my domestic rugby career, my international career and my day-to-day job. It was a lot of traveling and lots of working, and it became somewhat consuming because you also have to try and fit your own training in around it all.
I eventually spoke to my boss as I felt like I was becoming a burden on the company, I had taken 75 days unpaid leave plus 20 days holiday throughout the year for Rugby and thought it was time to move on so they could employ someone who would be able to give 110% however, he felt differently and asked me to stay and carry on doing what I was doing. I pushed myself as hard as possible because I lived and breathed that company - I think if I'd stayed there I would still be working there now.
The RFU eventually gave me a contract and although I asked my boss what I should do because I wanted to stay with them and continue to push their business forward he told me I'd be stupid not to take it, and would indeed fire me if I didn't. I still visit them now, and keep in touch but that was probably one of my biggest challenges. When I took away the 9 to 5 role I was left with a lot of free time I hadn't had before, for instance if I went to the gym to train that was now part of my job, so I found it very strange because my hobby had become my career and I ended up questioning what I would do alongside that.
Who has inspired you most throughout your career?
I look up tremendously to people that are part of the rugby community. There's the England Women's team who are incredibly professional, they train hard and perform excellently off the back of that, so I've always followed what they're up to because I want to try and become similar to those players.
There's also advice that I have taken from my mum, she is a very grounded person and always wakes up with a smile on her face. If she's not laughing it's because she's joking about you and vice versa. She always told me to not miss out on any opportunities because you can't be bothered, no matter what they are grab them and hold onto them because they could become one of your most loved experiences.
I've done some things I didn't want to do that did turn out to be wonderful and that's thanks to that piece of advice. Other referees are also a big inspiration, and people that you meet day-to-day in life. I often think I am just running around on a pitch blowing a whistle, and there's people out their saving lives.
I used to go down to my local rugby club to have a couple of beers and watch the match, and that's my day off where I get to meet and be around lots of different people and be back in the community.
I often look back and think no matter what happens at an elite level, as long as those guys are still happy and running around with a smile on their face then whatever I do is null and void.
What does a typical 12 months look like for you in world rugby?
Over the last few years it had been quite different as there's been lots of big tournaments. There's been the Olympics, Commonwealth Games, two world cups, (one sevens - one fifteens) and then between there's been all the domestic rugby games too.
I would usually be in the country for around 40% of the time, so I'm usually travelling around. Last year for instance we went to around five or six sevens tournaments, which equates to around six weeks plus a Sevens World Cup, and then we were at a domestic match nearly every weekend and I think at one point I flew to three different countries in the space of about a month. I remember once doing a Championship game at London Scottish I think and straight after the game I went to the airport to then fly out to the Commonwealth games in Australia. The jet lag made for an interesting few days. It's very busy and there's a lot of travel, but it's also lots of fun.
Around this time of year I would usually be at the Dubai Sevens, which would then run into Cape Town. I did however miss that last year as I had injured my ankle, and then when I returned I did around three or four games before we ended up in the pandemic. It is nice to be back in my own home for a bit, as I used to only be here for maybe 5 months of the year.
Are there any different challenges between officiating women's and men's fixtures of highest level?
I look at them as two different brands, coming from a marketing background it's easier to distinguish them that way. Although they do similar things, play to the same set of laws and play on the same sets of ground they're two different brands in the way that they play, and bring different challenges to different parts of game.
For instance, the women game you may see less kicking, but technically, they're very good around the breakdown. It often depends what game it is, what time, and what everybody is wanting out of the match, because if the players have got different game plans then it can be played entirely differently.
I've reffed championship games where I have left the pitch and thought to myself that was a hard match, but I have also done the same for women's games, so although they are different in some respects they often cross over. It's difficult to describe, but overall it's pretty cool to get experience from both.
What have been the stand out moments in your career?
I think probably the Commonwealth Games, and doing the final, as not only did we go into extra time, we also had a full house. The thing that stood out for me was the fact they actually sold more tickets for the women's final than they did for the men's. They play in sessions as that way broadcasters can switch from sport to sport and we were on the first session, and the atmosphere was amazing. It was a real wow moment, I stood there and I thought about how far we'd come, it wasn't just about the fact I was refereeing the final, as much as it was about the fact people had chosen to come and watch and that there was such a huge interest in the sport. Then I went to watch the men's match, and not to discredit it but there weren't as many people and I think that just really made a statement to me. I think watching Women's Rugby grow, and grow throughout different countries is unreal.
Going to the Olympics was also a stand out moment, to be in Brazil and trying to get around was very different, but it was also exceptionally interesting getting to see a different culture.
For the fifteens, the biggest one for me was getting special dispensation to referee an England versus Barbarians fixture - which was a first for the women's game - England playing a Barbarians side, because it never existed beforehand. It was an honour being in the middle for a team I wouldn't usually referee (England), and to have it all on one pitch was quite something. Being around the Barbarians side which included some of the best players in the world was amazing.
What do you do in your spare time to relax?
Lots of different things to be honest, there's nothing specifically that I turn too. I'm very much a fair-weather golfer & cyclist, so as long as the rain isn't around, I'm quite happy to be out. Otherwise, if the rain comes I'm not interested. I like to go out and grab a coffee and of course I enjoy just catching up on different sports. I started getting into the NBA and baseball more recently, and just seeing how that operates. I'm not really paying very much attention to it, but actually just starting to kind of look at what it's about.
How do you inspire the next generation of female officials?
Hopefully, by raising awareness as much as possible. Before the pandemic I got involved with a project called 'Inspiring Girls'. It's an exciting new pilot programme which aims to support the aspirations of girls in the Exeter area. The programme is designed to provide an inspiring and high impact careers intervention to shape the future of the next generation of females in the area. We have started to look at how female professionals in my position can pass skills & experiences on to other young girls to inspire the next generation into different roles in employment. The meeting was attended by women from a range of industries, I was surrounded by CEOs and members from the city councils etc. – when I was asked "what I do" and "what does that mean", they were shocked because they didn't even know that refereeing was a possibility.
I want more people to understand that it is something that I do. It's something I work very hard to continue to do, but that's what hard work does. By keeping your head down and continuously ploughing forward, no matter what people say. I've had people say in the past that I will never get a contract and to stop trying, but I followed that by thinking that's what you think and I'm not going to stop trying because I love what I'm doing. I didn't stop trying and here I am with accolades and experiences I never thought I could get, just by virtue of the fact of never giving up.
Showing people that the possibilities genuinely are endless and that if I hadn't listened to my mum, and the influential people around me, I definitely wouldn't be where I am now. I still talk to the guys that helped me when I first started - I remember going to my first ever referee society meeting and I still to this day use the people I met there as sounding boards. People need to still build those relationships, and have these sort of figures in their life. I understand my career is not usual but it is possible, and just because it's not normal doesn't mean it's impossible.
What do the next five years hold for you in your career?
I don't know because I'm not entirely sure what's possible. I have hit a point in my career where the next level is a big jump and I'm looking at how I do that. When I retire, in however many years' time, I want to look back and feel that I put in 110% effort. For me, it's about knowing that I didn't let anything stop me from doing what I wanted to do.
The Gallagher Premiership is probably the next level for me, I didn't even expect to get to national league level, let alone think about getting to be an assistant referee in the Premiership this summer. I learned to really take things as they come but to not change my effort levels. My goal is to keep pushing that barrier further away. I want to ensure that when I finish, that's the best that I could have given.
I have no idea where I will be in five years, if I stay as assistant referee in the Premiership for however long and that's as far as I go, then that's okay. The next five years is just about getting my head down and just going for it and see where I end up. I want to look back and think it was all good fun and have no regrets.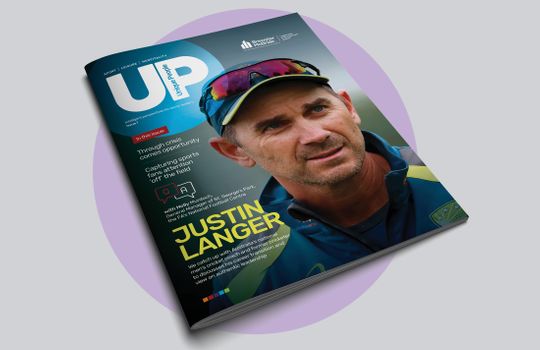 This article is featured in UP Magazine - Sports, Leisure & Hospitality Issue 4
Share