Q&A with Rob Paddon
Published: 14th October 2020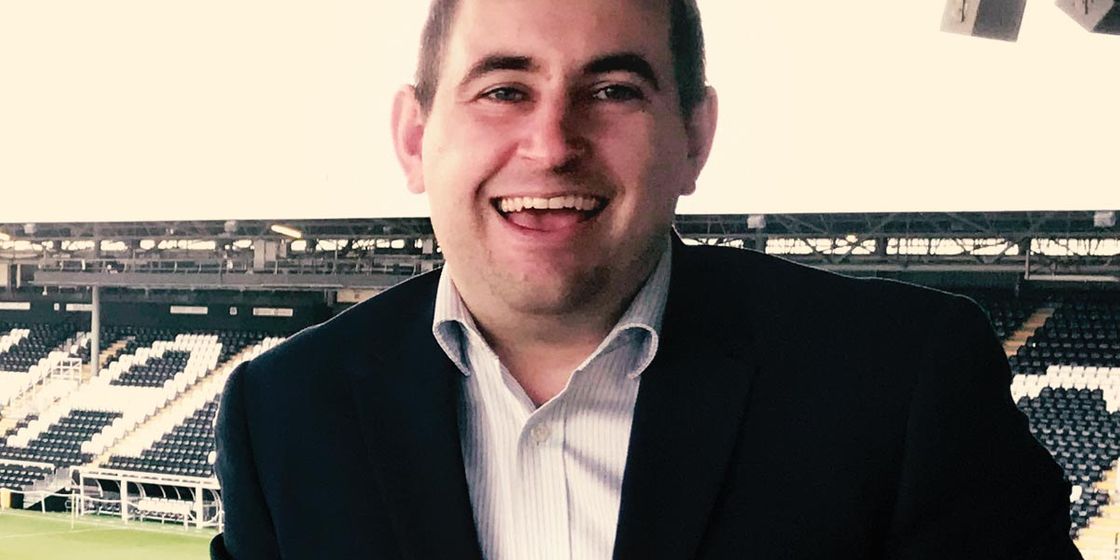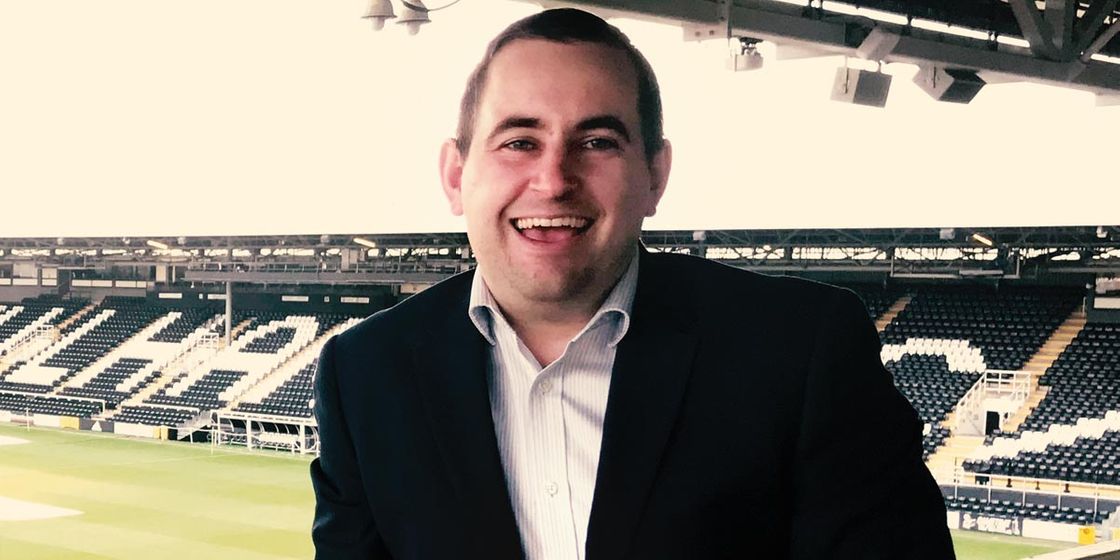 We caught up with Rob Paddon, Venue Sales Director of Fulham Football Club, to discuss his career to date, as well as the exciting Fulham Pier development at Craven Cottage. Fulham Pier is due to open in the summer of 2021, which will transform Craven Cottage into an iconic, premium, riverside location overlooking the Thames.
Can you talk us through your career to date?
Post my degree I started helping at my local football club Exeter City to try and gain some relevant experience whilst trying to find my way into the sports industry. Thankfully, they liked how I was adding value, so I was offered a full-time role, supporting departments across the club from commercial sales, meetings and events, marketing and also the matchday operation. It was a great first grounding in sport and we had a fantastic Chief Executive at the time called Norrie Stewart, who really believed in nurturing young people in the business world.
I then moved onto Southampton FC as I knew I wanted to specialise in sales and had a fantastic two years at St Mary's, with good success in selling sponsorship and hospitality. During this time I had my first experience of being promoted to the Premier League, which is always very special.
After two years at Southampton FC, I had gained a lot of sales experience, but I now really wanted to move to the capital and work for one of the biggest football stadiums. I joined the premium team at Arsenal and had three fantastic years at the Emirates Stadium. It was again, a great place to nurture my sales skills and experience, and, at the time, work on some of the biggest matches in world football. We broke numerous revenue records during my time and delivered some incredible deals to a host of global brands.
I now knew, I wanted to look for both project and managerial experience for my next move. The RFU at the time were looking to expand their hospitality proposition, and deliver a significant uplift in matchday revenue, by transforming their East Stand, with state-of-the-art hospitality facilities. I joined to run the debenture programme, which by the end of my time at Twickenham would result in my department generating over £60m in matchday revenue. We also had to deliver a particularly complex migration of debenture holders, to accommodate the East Stand premium areas, which whilst challenging, was an incredible achievement.
Fulham FC had always been on my radar as a venue, that oozed with potential, with just an incredible riverside location, right in the heart of London. As my time on the debenture project was coming to an end, the opportunity presented itself at Craven Cottage. The opportunity to work with such incredible people in the industry such as our CEO Alistair Mackintosh, Casper Stylsvig (now at AC Milan) and Chad Johnson (Jacksonville Jaguars) was just something I could not turn down. I wanted to move to somewhere where my development would continue, and where I could make a real impact. In my three years now at Craven Cottage, we have broken every matchday revenue record, and won some great awards along the way which has been pleasing. We also have a very exciting future ahead with the new stand development which we will go into later.
Since confirming your return to the Premier League, it's been a quick turnaround to the start of the 20/21 season. How have the team reacted?
We got promoted two years ago by the exact same method of the play offs so we do have quite a lot of experience in turning the seasons around sharply, but with the added complication of Covid-19 and also a new stand build, it's been a particularly challenging timeframe.
Off the pitch, we have had to be strategic given the changing legislation and guidance, and plan for every single permutation and outcome. At least with the promotion, that took 50% of the permutations (EFL) off the table.
We have been as agile as we can, given the circumstances and I think it is testament to our operations team, who have adapted and have been delivering match days successfully in the new COVID world.
We have been working tirelessly, so we know that the minute we can welcome fans back into the stadium, we can ensure anyone attending will enjoy it and do so in a safe manner. After being away for so long we want to get that experience right.
Craven Cottage is undergoing significant redevelopment, can you tell us more?
Last summer we started re-developing the Riverside stand, which for those who have not visited Craven Cottage, is the stand that stretches right along the River Thames. The new six floor facility is going to increase our overall capacity to circa 28,000, but more importantly, transform Craven Cottage into an iconic, premium, non-matchday riverside location, overlooking the river. Most importantly, we have purchased part of the river, so we will be opening up the Thames path, with an iconic 'boardwalk'.
The venue itself is going to have diverse range of offerings, with something for everyone, from morning through to night. From private accommodation, a health club and spa, shared working spaces, a basement music and events facility, several high-end restaurants and bars, and finally, a truly incredible roof terrace with stunning views of the river.
The opportunities here are endless, with facilities to not just serve the local community, but for it to become an iconic London destination for tourists and Londoners alike. It just so also happens to be a football stadium too.
How will the new development impact the future of the business?
This development of the stand as mentioned previously, is going to allow Fulham FC to deliver a broad range of year-round experiences, which will naturally transform our non-football revenues. The opportunities in the stand are endless. We are so fortunate that with Shahid Khan as our Chairman, we can even consider a project of this magnitude, which is truly going to change the game, when it comes to stadia developments. Certainly, from the research we have undertaken, there are very few sport stadiums to benchmark this against, let alone entertainment venues in London.
Are there any future plans to further develop other parts of the stadium?
We have already undertaken some development of areas ahead of the Riverside Stand. Most notably, we have transformed the cottage itself back to its former glory. This project transformed two floors of this iconic piece of football history and now makes it an incredible space for both matchday and events. Naturally, our focus right now is solely on the new stand development, which will be due to open in summer 2021.
In what ways has the global pandemic affected the club on a day-to-day basis?
Not having fans in the stands has naturally been challenging from a revenue perspective, but it has been positive to see how departments have adapted and, as an example from a digital perspective, our interaction has gone through the roof.
We have to all had to adapt to working from home and thankfully we have some great partners, that has resulted in all departments working remotely wherever they can. From my teams perspective we have all been home for six months now, and are still delivering some great output, despite Covid-19.
Shahid Khan owns both Fulham FC and the NFL team, the Jacksonville Jaguars. Do the clubs work together in anyway?
It's a truly unique relationship, and both teams benefit from the mutual sharing of knowledge, experiences and resource, whilst also having respect, that we do also have our differences.
We do have a great relationship with our commercial counterparts and, for example, share similar ticketing and data systems, which allow us to share insights and learnings. Another example of working together is our medical team and players often go over to Florida and vice versa to assist with recovery of injuries. Personally, its also great experience for me too, as I expand my knowledge into the US sports market.
Every year we have the Jags weekend where we will play a home game on the Saturday and the Jags will play at Wembley on the Sunday. The commercial opportunities that gives us is amazing. We will have an influx of US tourists on the Saturday who are here for the Jags game and vice versa on the Sunday, they will have an influx of Fulham supporters wanting to cheer on the Jags, so it's a great celebration of our ongoing relationship.
What would a successful season look like for you?
Off the pitch, we want to continue to be commercially driven, and drive as much commercial value as we can whilst also delivering great fan experiences, when they can return to Craven Cottage. In the meantime we also want to make sure the fans still feel part of it, even if they are only consuming us currently through digital channels.
In relation to the new stand, success is going to be opening a world class destination that can provide the most exceptional experiences for everyone and anyone. That for us is going to be our biggest achievement, and will no doubt create an iconic landmark, on the banks of the river Thames at Craven Cottage.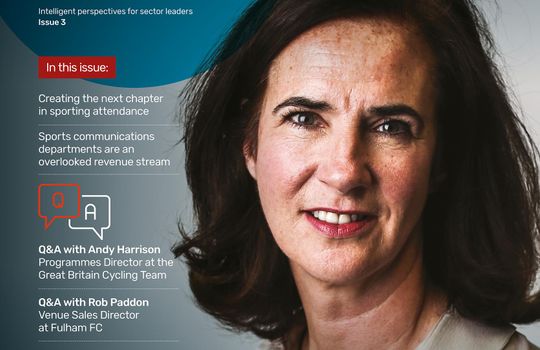 This article is featured in UP Magazine - Sports, Leisure & Hospitality Issue 3
Share