Q&A with Lara Bundock, CEO, Snowdrop Project
Published: 12th February 2021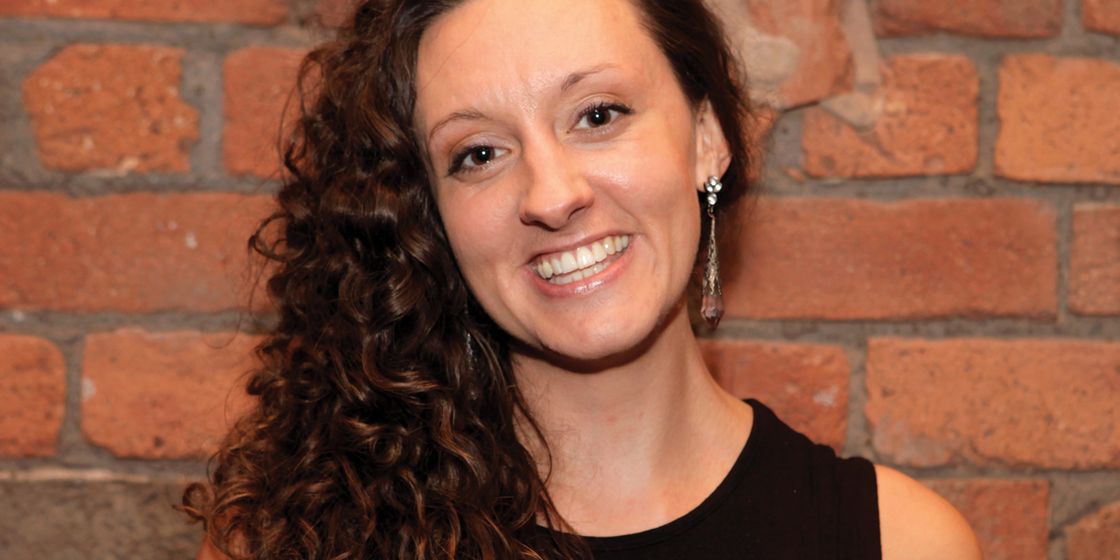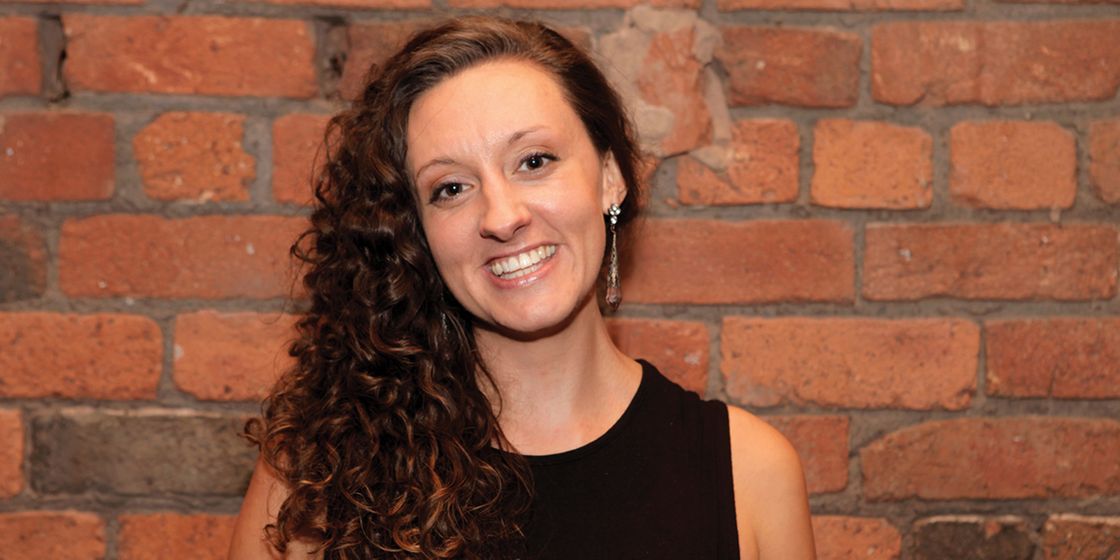 Lara is the CEO and Founder of the Snowdrop Project. It has been her delight over the last few years to grow Snowdrop to where it is today and work with some of the most dedicated, passionate and caring people she has ever met.
Can you tell me a little bit about your career to date and how you ended up in your current role?
I feel like I simply fell into my current role, which probably isn't the usual thing to say. I studied psychology and sociology at University which wasn't the original plan as I thought I was going to do Physiotherapy. I had unfortunately messed up my A levels and didn't get the right grades so I decided to study something I was interested in, which ended up being a pretty good decision. My entire family has a medical background which I thought would be a major influence but instead I ended up doing something different and my family were completely supportive of this.
At the end of university I wasn't sure what to do, which is probably quite common, so I just applied for lots of different jobs. I'm originally from Skipton but I had fallen completely in love with Sheffield; it feels like a bigger version of where I grew up which I think is the reason I love it. I applied for lots of jobs in the Sheffield and South Yorkshire area and I eventually got a job as a social work assistant in child protection in Doncaster. That job was a baptism of fire, I operated more as a social worker because there was so much work. After a while I decided that if I was going to do the job, I may as well train as a social worker.
After spending a year working I went back to University to do a Masters in Social Work. I then spent some time in child and adolescent mental health services in Barnsley. It was at this time that I volunteered at one of the safe houses for victims of trafficking in Sheffield. This also happened to be the start of the nationwide government support for victims of trafficking. Prior to this, there had been a pilot project in London. In 2011 the government decided to start combatting the issue nationally. Three months later I got a permanent job working in the safe house. At this point I started to see there was a major problem with the way that the government was providing support.
The people who were referred had been very severely abused, tortured and exploited for months, if not years, but all we could offer was six weeks in the safe house. This period of support is attached to whether the government believes them and fits our definition. Therefore, it isn't just a case of the person coming to the safe house for support and saying they had been trafficked, they had to go through individual assessments by the Home Office. Not only were they trying to recover, but they also had prove that they had been trafficked and exploited. For as long as that decision takes to be made, they were allowed to be supported but as soon as a conclusion was drawn the support would end. If it was a positive decision they would get two more weeks and if it was a negative decision we would have to exit them within two days. Professionally, ethically and morally this was a real challenge, it meant that you often had to exit someone with no further support when you knew that they were not ready to live independently and would be vulnerable to further harm, potential homelessness and destitution. I would regularly receive phone calls from housing officers, GPs, Solicitors or from the clients themselves, asking for help, questioning why I had terminated much needed support. The reports I got included homelessness, exploitative relationships, missing people, mental health deterioration, drug and alcohol problems and isolation.
However, there was a girl who was the tipping point for me. I thought she was quite independent and seemed motivated and I managed to sort her some accommodation within two weeks. A month later, I received a call from the housing association, to tell me they were concerned about her and whether I could help. Technically, I am not allowed to do so. You're not allowed to send letters, or continue to support them but I would unofficially go out to people to see what I could do. In this particular circumstance I went to see her and found she was curled up on a futon without much clothing and no heating. This was in the dead of winter. Surrounding her were bottles of alcohol, she had previously had an alcohol problem and when she moved the isolation and fear had led her back to that. Within a month, she had been targeted and was in another exploitive relationship and was having flashbacks. I remember leaving that flat and thinking I can't keep putting a sticking plaster on something that in reality needs attending to properly. I decided I couldn't do it anymore.
I had previously done a lot of outreach work, mostly with children, going into people's homes. I thought if you can do outreach work with children, surely you can do that with victims of trafficking and that's when I came up with the idea to design a training program for volunteers to help look after people. The training was based on all the things someone may face when they move out of the safe house and looked at all the things people would need to be trained in to support them. The charity I worked for said they wouldn't be able to support me to do it but if I could find one other person to do it alongside me I should give it a go. Fortunately, Rachel (our now Head of Operations) had previously worked with refugees and migrants and had just been made redundant. She said it sounded great, she had her redundancy pay and lots of free time due to being pregnant so we set it up together. We launched on the 1st May, 2012 in a church hall and we were grateful to have over 100 people turn up. Fast-forwarding four or five months later we did our first training program for volunteers and began supporting eight or nine people. About six months in, I got a phone call from an MP who said they had heard about what we were doing and wanted to meet with us.
We went to London and met with the All-Party Parliamentary group for Anti-Trafficking and they grilled me about what I was doing; they asked whether what I said was just theory or actual practice. I told them that we were supporting eight people and he said that was eight more than anywhere else in the country. As we were the first in the UK to provide long-term support, he wanted us to talk to more people of influence. The lack of long-term support was, and still is, an issue around the country. Every safe house was saying the same thing, that victims of trafficking needed support for longer. As we'd actively started doing something, people looked towards us to tell them what we did, how we did it and what we were learning.
We operated as a small community organisation for a few years but in 2014 we decided to go for charity status; this took us nine months to achieve. As there was no one else in the country doing what we were doing, we had to prove why it
was charitable, how we were achieving our charitable objectives, and how we would be measured and monitored. They really put us through the ringer which was understandable, but hard work. Charity status changed everything. It allowed us to properly start fundraising as before we weren't allowed. During the journey of the two previous years, I realised I couldn't run Snowdrop and work at the safe house at the same time (which is what I'd been doing), so I ended up leaving and working full time for free. I thought this would be for a short time but I ended up doing that for just over two years which was really hard. There were some very kind people in Sheffield that wanted to support me invited me to live
in their spare room. I sold my furniture and left a five bedroom house to live in their spare room. My parents and friends also supported me, and that was how I lived during those two years.
After taking such a huge step, what were some of the immediate challenges you faced?
At the beginning all the money we received went into the charity operations. The first thing we did was a sky dive. One of the women we had supported decided to do it alongside us and that was really powerful. We raised about £12,000 and that was the money that paid for our first year of premises that was around 1,000 Sq. Foot.
We weren't sure where the rest of the money was going to come from so we were just living on a prayer at that point. We managed to run our services that were mainly operated by volunteers and received a lot of office furniture for free. We had one office, a community room and two counselling rooms. The services we provided started as a social work program of outreach and advocacy but we had two counsellors approach us and asked if we were interested in their services. They designed a counselling program alongside supervision from The Helen Bamber Foundation who specialise in therapy for people who have been tortured and traumatized.
We then started community activities and a house renovation program. The community programs include ESOL, dance, Mums and toddlers and sewing classes. The house renovation program is for clients who have been entitlement to and obtained a council house. The houses are usually bare and undecorated. It is essentially a shell. We help clients to furnish and decorate the properties, as many of our clients don't have a community or money to help them. We take volunteers with two to three days' notice and turn houses in to homes in 48hrs. We encourage clients to decide on their own paint colours, and we rely heavily on donations for furniture from the people of Sheffield. Within two days we get to give the clients a proper home. I think because they've had their trust broken so many times, we have to work quite hard to gain this from them and sometimes the house renovation project is the turning point.
On a personal level, the two years I worked without being paid and the amount of work we were putting into the charity almost led to a breakdown. There were many people worried about me and my health but I didn't want to give up when I had gotten so far. This almost breaking point prompted me to 'go big or go home'. With that focus we decided to apply for a big grant from the lottery and they were really supportive during the application process. In the final decision phone call, they told us that they don't usually help charities that haven't already had funding but as we had systems and process, clear outcomes for clients and functioned as though we already had a steady income, they wanted to see what we could achieve when we actually did have funding. Our one condition was that in three years, it we came back for more funding, we weren't allowed to ask for 100% funding again. Last year we went back for the same amount of funding but it was only 32% of our income because of the successful growth of our services. Yet again we have been successful with this to increase our capacity even further. We have moved rapidly from support 8 clients to 167 and 77 dependent children.
I believe that part of the success of our charity is the strength of the snowdrop team members. We don't have a high turnover of staff as we try really hard to look after our staff and volunteers. For example, we're really committed to people's mental wellbeing and health so we provide one-to-one therapy for all our employees once a month which is done by external people.
I think when you are in an industry that deals with people that have experienced trauma, there is a higher chance of you being affected by secondary trauma and your own mental health struggles. I don't think enough is done in this industry to look after staff mental health and it's a huge asset to do so because who you employ is what makes or breaks the success of achieving that charities aims.
In the charity world, the staff you employ are the essence of the organisation. You're not supplying a product you're supplying a package of support and the staff are and essential part of that. Without good staff, you can't provide a reliable and trustworthy service so it's really crucial to look after them and keep them in the best health. We could not find the right fit for our recent Counselling manager and it was our first experience of going through an agency and I was so impressed. The person we have employed is like gold dust. Already she has proactively joined a Sheffield forum for trauma specialist, done extra-curricular training and exploring how we can improve our therapeutic offer to clients with different traumatic experiences.
From when we had our first lottery funding we've gone from no employees to now having 17, expanding across South Yorkshire, going from supporting 8 people to 167 and most recently, owning our own building. We've only been running formally for four and a half years but had to move buildings three times. This inconsistent base can be damaging to providing effective support to our clients, so being able to get a stable base for them is a great asset. We are so excited to make the building a place that clients love to visit and staff feel proud to work in.
How has Covid-19 impacted you in the last 4 months?
We didn't furlough anyone and our support became more virtual, but as a result it also became more regular. We found that when people could come to see us before covid, they would attend sessions for an hour or more, whereas during the pandemic most case workers found that clients appreciate shorter but more regular contact. The calls were shorter because there was less to talk about but was often the only interaction they were getting all day. An additional challenge was the lack of connectivity. Many of our clients don't have Wi-Fi or smart appliances so many of them were suffering from extreme isolation because they couldn't connect to the outside world, or take part in activities. Some of them also have children so there was the extra pressure that the children couldn't access online learning from schools.
Through grants we were able to create something we call the digital library that allowed us to buy and loan tablets to the clients that were disconnected. We set them up with My-Fi devices so they could take part in online lessons, keep in contact with family, access health support etc. We also set up mini coffee mornings with their case workers, volunteer and our team administrator to provide some face to face friendly interactions.
A proportion of our clients were in the shielding or vulnerable category so we set up regular delivery of food parcels so we could ensure they were getting enough food to stay healthy. During the start of the pandemic we had quite a few mental health crises and we were there to help in referring them to the right support. Our own counselling team set up over the phone, zoom or WhatsApp sessions and interestingly from that we have
found some clients preferred this. Going forwards we will keep this as an option alongside the traditional face to face counselling. I think some find it easier and less threatening being able to speak to someone virtually rather than face to face or easier if they have childcare needs. It's been quite interesting to reflect on some of the benefits we've seen since the pandemic. We all want to get back to working in the offices around the team, but there's definitely been a few things people have learnt that we don't want to let go of. We underwent a staff survey to see what people were finding positive about corona, what they were finding hard and what they think we could improve. One of the positive changes is the move to weekly staff meetings where each service talks about what has been happening for them.
Staff have reflected that they enjoy hearing what every department is doing. I think sometimes we get so focussed on our own work we don't really see what others are doing, so the team is enjoying seeing what each other are doing at the moment, and I think we will keep that moving forward.
Our fundraising strategy has had to change significantly and I'm so proud of the team for how they have managed this. We created weekly virtual quizzes at the start of lockdown to raise some money, arranged virtual marathons that could be done over a period of time and launched a summer scavenger hunt for families to do around Sheffield.

The South Yorkshire community and our donors have been so supportive over this period. I have been bowled over by the continued encouragement and backing of those around us and it has allowed us to continue to deliver our services throughout.
What advice would you give someone who is looking at setting up a charity similar to yours?
The best piece of advice I had was to find one other person to set it up with you. So important. There are so many challenges that you face and it takes far longer than you can imagine. I don't think I could have managed to keep going on my own. If you have someone beside you, there is a shared challenge and battle and you can support each other when it gets tough.
Secondly, although there is a big goal in the end, I think it's always important to celebrate the small wins. If you don't you just end up felling exhausted. We've created a culture in the organisation of celebration. The work is very hard, traumatic and takes a long time for a client to get to their goal, so we celebrate the small wins along the way. We have a 'Yay' board for whenever something good happens and we can put it on the board and celebrate it.
And finally, make sure you take time for yourself. Surround yourself with people who remind you of who you are. Part way through I lost sight of myself in the aim and drive to succeed and I learnt a lot from that. I learnt that I am a human as well as a founder/entrepreneur and there are many other things that make me who I am. Having good friends around you and hobbies and interests that bring you life and rest, it fuels the energy you need to keep going after the amazing vision that most charities have at the heart of them.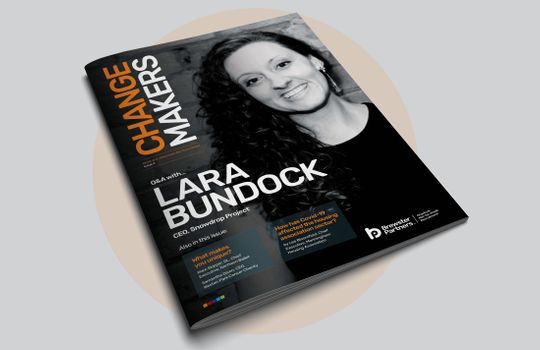 This article is featured in Change Makers magazine Issue 4
Share