Q&A with John Sutcliffe
Published: 15th April 2019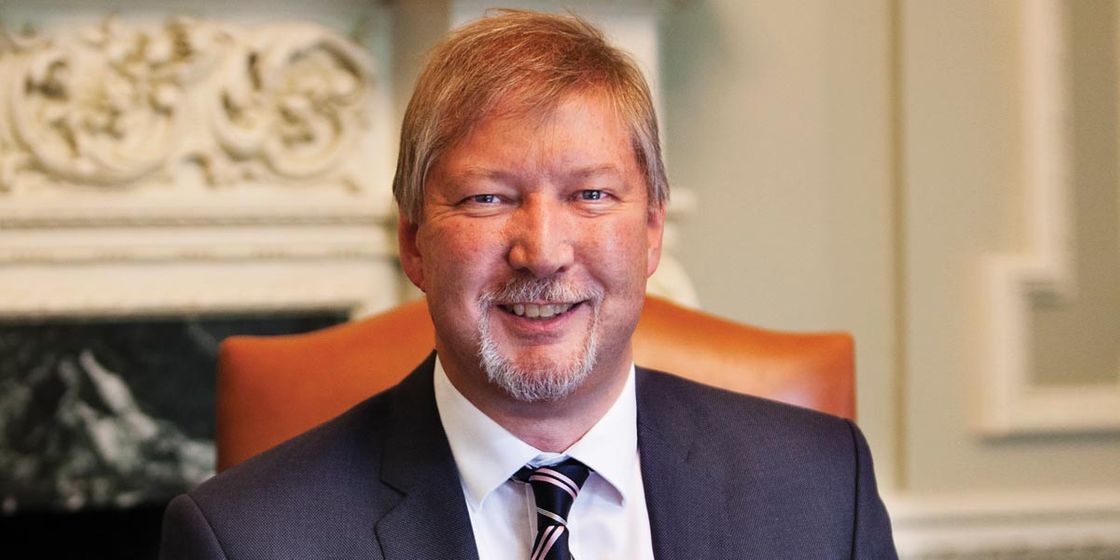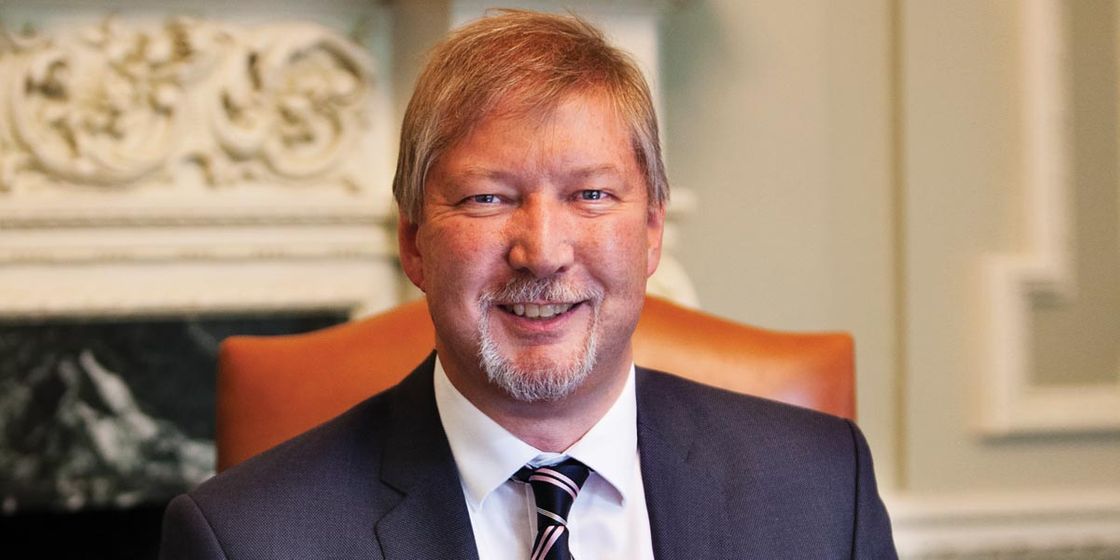 John joined Henry Boot PLC in 2006 as Group Finance Director, and was appointed Chief Executive Officer in January 2016. He is also Chairman of the Company's four principal operating subsidiaries – Henry Boot Construction Limited, Hallam Land Management Limited, Henry Boot Developments Limited and Banner Plant Limited. We asked him for some insight into his career to date and the challenges of leading in a PLC.
Please talk us through the early part of your career.
When I left school, with reasonably decent A Levels, I went to work in a bank, but I absolutely hated it. Of course the perception was that it was a solid job, a job for life, a career in the making. But one of my friends came home from university one Christmas, and told me all about life on campus and I just thought 'I've made a mistake here'. I then applied for, and got into university, effectively a year late, which I think in many regards was a really good way of doing it. I got to see what life outside of the academic world was like, and I worked really hard – although I always say I got a Sportsman's degree!
On finishing university I looked at the then 'big ten' in the accounting professions, and at the time London was offering maybe 150-300 roles. There were 3000+ jobs for graduates leaving university with an Economic degree, and I managed to land roles in a couple of places and chose, what was at the time, Touche Ross and Co. in London. I trained there and had a fantastic time, working on jobs with companies like Trafalgar House, who owned The Ritz and the QE2.
I qualified in London and my wife came to London after she completed her teacher training and got her first job in Harlow in Essex. We got married and wanted to be closer to both sets of parents so moved back up to Leeds, and shortly after relocating with Touche Ross, I decided it was time to leave. There were six other guys at my level at that stage, and it was clear that progression was only accessible at quite a big personal cost (long hours, working weekends etc), so I decided it would be better for me to move on and get a job outside of the profession.
I started working for a jewellery business called Abbeycrest at the age of 26, and by the age of 29 I became Finance Director. Between the years of 1986 and 1989, we grew the business from £7million to £60million, all on the back of Gerald Ratner and the Ratner Group. Things were going well until the famous Gerald Ratner comment about a set of earrings being "cheaper than a prawn sandwich"… well, that was about our earrings! (For the record, they were less expensive than a prawn sandwich, but they were incredibly well-engineered).
Gold was incredibly expensive, so when we lightened the product through precise engineering, it became significantly less expensive, and that's what Abbeycrest was all about. It was a fantastic business, really great people, and a great team. But after that comment from Gerald Ratner, we lost half of our business. Had he said "This is a fantastically engineered product, and we are using the latest technology to create low weight products to make them accessible to a wider audience", people would have loved him, but he implied that they were poorer in quality which had an incredibly negative impact. For me, the lesson learnt was, you've got to be incredibly careful about holding all your eggs in one basket in business, because you just don't know when something like that is going to happen which could have such grave consequences. Ratner Group were £36m of our £60m annual turnover in that year, and the following year they were £6m. In effect we lost half our turnover from one customer in that year.
So, in that decline from £60m to £30m overnight, what happened?
We still made money in the year and we deleveraged. The good thing about de-stocking in a gold business is that you just melt it down and make cash! Your intrinsic value is quite high. We had to go through redundancy exercises, and I'm not saying it was easy, but it was a good lesson to learn. Sometimes you can make a positive out of a bad situation, when you think about how to work it through and get on and do it –you can begin again. We started off again, we were in a different place. We were developing new markets, new customers. Argos for example, really stepped up to the plate and recognised that one of the principle retailers in the country was struggling and took advantage of that.
We built a business up with different customers, and by the end of the 90's we were at around £90m turnover. It was fascinating, you had to manage the intricacies of gold prices, and you build stock using borrowed gold. In the times of 15% interest rates, the interest rate on gold was around 1%. You could borrow bars of gold at a 1% interest rate, which felt like peanuts. But then you've got to manage it effectively. You borrowed their gold to build your inventory, and then you bought it and fixed the price of that borrowed gold as you managed your order book. We had daily reports that showed how many orders had we taken, and how much gold that represents, and therefore we needed to buy 'X' amount of the borrowed gold. It was fascinating.
So, you stayed there until 2000, and went to work for Town Centre Securities. What prompted that move?
I'd been at Abbeycrest for 15 years, and it was coming up to the millennium. I really started thinking genuinely about what I was doing and what the future looked like, and I remember sitting down on that New Year's Eve, and a few of my friends were saying I should just do it and have a change. I was 40 years old at that point and that's what made me start to look for a new role and the result was finding one at Town Centre Securities (TCS).
Some of the best lessons you can learn about the property industry I learned from working in that environment. The business has a really healthy attitude to leverage, ensuring that the business was never over-leveraged, and not over-committed to the banks. Also, the CEO would always say "If you're going to own property, then you've got to own it in the right places" and he used to talk about the regional capitals around the country – Edinburgh, Leeds, Manchester, Birmingham, London, etc. People are going to go to Manchester, but probably won't go to Halifax. On a personal level you've seen that play out, those secondary towns have been nowhere near as successful as the 'regional capitals', and I think that's been a real lesson. Location is crucially important in property and you have to be incredibly careful with how you use yours, and other people's money in property. Those initial lessons working with the CEO and Property Director, who were really, really fantastic operators, have stayed with me, I also learnt a lot of lessons about property development. You've just got to nail it down. If you don't nail down every part of that, you'll make a mistake. That's not to say we've not made mistakes at Henry Boot PLC, you've just got to mitigate those mistakes as much as possible when you make them, and ensure you're not making the same mistakes time and again.
Property is essentially a risk business. That was the problem at the top of the last cycle, there were so many people alive to property and had seen the brilliant returns that had been made in the preceding five or six years, they thought it was a doddle! The banks at that stage were very receptive to any sort of proposal from almost anyone with a property deal, and when that came crashing down, a lot of people got hurt. I remember one conversation I had with a guy who had built up around a £1b property portfolio with about £900m worth of debt, and the £100m equity was effectively revaluation. So it wasn't skin that he had put in the game, but he was sat telling me he was worth £100m. I told him
he absolutely should sell 75% of what he has, keep his £100m, and have £200m of debt, and that way he might be alright. But he was adamant that he would be alright regardless, but he wasn't.
Going back to Town Centre Securities, the CEO would always say; "What happens if property values come down by 25%? Are we still okay? Does that still work?" and that was really good advice, because it doesn't always go upwards in a straight line, sometimes it can go the other way. We are in a cyclical business, and property values are cyclical in the longer term. It's not that the overall direction of travel isn't necessarily upwards, but you've just got to not be in the wrong place at the wrong time. I then decided to leave TCS in 2006 and came to work for Henry Boot PLC.
You've worked in public companies for quite a number of years. What are your observations about that environment?
Well, I've been an FD of a public company since I was 29.
Again, shareholders giving you grief is one thing, but you can sit down and you can front it up with shareholders and say "this is what's happened, and this what we're going to do about it", whereas, banks giving you grief is far worse when you're in financial difficulty – that's not necessarily going to cut it with the banks if you are severely over-leveraged, and that clearly came out over that 2007 to 2009 period. I guess the lesson I learned from that top of the cycle stuff is that, as a property developer, do not have too many property development eggs in your basket at the time the cycle turns, because as soon as you start building it, you've got to finish it, because if you don't finish it, the value of a half-finished development, if you go bust at that point, is worthless. Who is going to take it over? Who is going to give any warranties on the work that has been done? That work has essentially gone, and that work may have to be knocked down for someone to start again. You've got to finish it, and you've got to have the funds to be able to do that, and that was the problem for so many developers at that point in the cycle, when the banks were saying they weren't prepared to provide further funding.
So, you came to Henry Boot PLC as the FD in 2006 just before the world collapse. How did you navigate this?
We were leveraged in terms of the cycle, and had about £75m worth of debt against a £150m balance sheet back then. The issue was we didn't have too many of those developments in progress, and we could finish off the things that we were developing, and we did manage to sell them even though we didn't make a great deal of a return on it. But we actually started to generate cash, and by around 2010/2011, we had about £25m in the bank. As a Finance Director, because Henry Boot PLC is inherently cash-generative when you don't really do anything, and because the markets were so quiet and there was so little going on, we weren't really investing lots
of capital, we were generating cash.
Talk us through that a bit more –so the business was cash-generative even when you're not really doing anything?
So, taking our plant hire business for example, as soon as you stop buying plant, there is about £3.5/4m worth of depreciation every year, which is just cash effectively. We completed developments in progress, and we disposed of them. In our Strategic Land business, when house builder output declined, they stopped buying land. Hallam Land made £30m+ in 2007 in profit and Henry Boot PLC made £44m, and between 2009/10/11/12, Hallam Land made an average £2.5m a year profit, so it was almost like going back to the Abbeycrest days, completely different situation, but it never worried me because it became clear after a couple of years here as FD, how cash generative we could be as a business when we slowed up. So we stopped selling as much land through the Strategic Land business, and we didn't lose the people because they are the most important asset. The intellectual property at Henry Boot PLC is between people's ears. Provided you've got the people and the funding to be able to do what we do, it's an incredibly strong business. So going through that period, it was difficult, profitability went down, we reduced the level of dividends we paid out in line with the returns we were making in the business, but as a business we were in really good shape. I'm not suggesting we didn't make people redundant, principally within the contracting business and principally because we just couldn't keep those people busy, the guys on the tools were the people who suffered in that recession. But, we didn't make people redundant elsewhere in the businesses and within construction we moved to a management contracting model.
Our employment level went from around 700 to 450 in that time, but it was within contracting that we had to make some difficult decisions.
We've recently completed our Investor presentation for 2018/19, and it is part of the job that I've always enjoyed. Whilst I don't always enjoy sitting in front of an investor and regurgitating the numbers, over time, the guys who have invested in the business have invested for the longer term (which is what we are, we're a longer term business). They all understand the business, and so the discussions had are more about what business is like, what we're doing and where, it's a different sort of meeting. We discuss the investment propositions for Henry Boot PLC at the moment, and that I think is what you shouldn't lose sight of. In 2014, NAV per share was just over £1.50 – we've put on 75p of NAV over the last four years and 30p in dividends. That £1.50 asset value in the business four years ago has delivered of 105p return for shareholders, and there aren't that many businesses who achieve that level. That's a 14-15% compound return over the last four years, and Henry Boot PLC has been doing that since before I came. It's cyclical, and you can't necessarily achieve that kind of growth throughout a full cycle, but if you took it from the bottom of the cycle to the top of the cycle, you probably are. Bottom of the cycle NAV was about £1.35, and we didn't generate too much because at that stage you're paying out a high proportion of retained earnings as dividends. We have effectively every year, in those last five years, seen a £20m equity raise, which is the retained earnings. That equity gets invested in what we refer to as the 'Opportunity Portfolio', and that's the 175 Hallam Land sites around the country that we're bringing forward, and the 50 or so development projects and sites we've got around the country. The five year record shows that 2014 profit was £28m, it was £55m last year, £48m this year, but the debt level has halved, and it's the recognition that we're a cyclical business, we're not building this business up with lots of debt. We're building this business up with our own equity.
If you'd have spoken to us five years ago, we were probably capable of delivering maybe £20-25m profit a year. The opportunity portfolio today is probably capable of delivering
£45-55m and, if we can keep on investing in it, in another five years' time we could be generating £60-70m. Taking the land inventory, the acreage we were running in 2006 when I joined was around 6,000 acres, and this has increased to over 14,000 acres today.
What have been the key differences from CFO to CEO?
I remember it was the 3rd January, and I was sat in my new office for the first time, and I suddenly felt what it was like, having the livelihoods of the 500 colleagues who work for Henry Boot PLC as my responsibility.
And I have to say that even though, as CFO, I had only sat next door, and was clearly a guy at the top of the business, that feeling had never weighed on my shoulders before. The perceptual shift to everything being on me was the biggest change. After that, it was having the responsibility for how the business is, how it grows, that was initially a bit of a challenge. But it's fine now, three years in. Confidence grows in your ability to a) deal with the pressures and b) achieve the results you're aiming for. I'm perfectly happy with the responsibility now, but it was quite hard when I initially took the role on.
Which of the skills you have developed as CEO and CFO would you say is most important?
It's the ability to communicate strategy to institutional shareholders, which is helped by being a chartered accountant, but not all chartered accountants are able to do it. It's helped by having an encyclopaedic knowledge of the business. It's helped by having been a CFO, but it's a different skill set that is helped by past experiences. The strategy that the company is adopting and how it is communicated is crucially important.
For example, we've not made as much money as we did in 2017, and there is a very good reason for that. We converted the former Terrys Chocolate factory in York into 165 apartment. We thought that the scheme would sell over three years, however demand for the apartments was so strong, that it all sold in 18 months, and we made a better return than we anticipated So, you've suddenly pulled forward, half the profit on the scheme, so 2018 was less profitable based on a success from 2017. And as a deal driven business, you can't manage that sometimes. One of the stories and explanations you've got to get across to investors is that we are a deal-driven business, and landing a deal in a specific financial bucket, is really, really difficult.
Additionally, any property business in my view, is about cash, it's about funding lines, it's about the equity we've got and it's about people's skill. A business like Henry Boot PLC is fundamentally dependant on two things, cash and people. If you've got the right people, they will make sure you go for the right sites, and that they are acquired at a price to make the right level of profitability.
I often use Thomas the Tank Engine as an analogy with the Fat Controller. But the point when you read those books to your kids is that he's in the background, and the trains are the stars of the show. So for us the trains are Hallam Land, Construction and Property Development. Those businesses and teams are who make the money, and I just 'orchestrate' it (I don't like using that word but you understand what I mean). We allocate capital in what we think are the right places, and explain that to the investor community as well. I'm not the guy who makes all the money at Henry Boot PLC, I'm the guy who communicates and reports that information. There are some fantastic people in our business. I facilitate and allow these stars of the show to make the money and flourish.
As you look back at your career, what are the things you're most proud of, and what are the key lessons you have learned?
You learn from everyone in your career, and one of the overarching lessons is that no one has the monopoly on good ideas, you listen and you learn, and you don't think that you know everything because you never do. You will learn new things every day, and if you're open to that, then you will progress a lot faster than someone who is closed to accepting new ideas and just thinks they're right. I just try to soak up other people's good ideas, and learn from them, adapt them, and try and improve what I am as a leader of a business.
Going back to Abbeycrest, we were managing, over 15 years, international gold price fluctuation, but making a very stable return. In terms of managing financial risk, I think we as a team at Abbeycrest did a fantastic job over a long period of time. Even managing that loss from the Ratner Group, and being part of the team that managed that was good experience.
Something I'm really proud of is our values at Henry Boot PLC, but again, I haven't come up with those, they were developed by the team. Everyone in this business is important, and everyone contributes to the results we achieve every year. The PLC, the company, gives people the financial empowerment to be able to do the deals they're doing all the time. I'm proud to be able to support the teams in our business today to do all the deals they want to do, and rarely walk away and say no we don't want to do that, or we can't afford it. We endeavour to support the guys to win every good opportunity.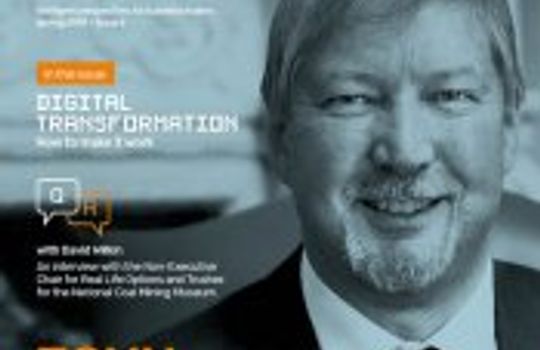 This article is featured in UP Magazine Issue 6
Share