New UP Magazine for the Sport, Leisure and Hospitality sector – Out Now
Published: 2nd June 2020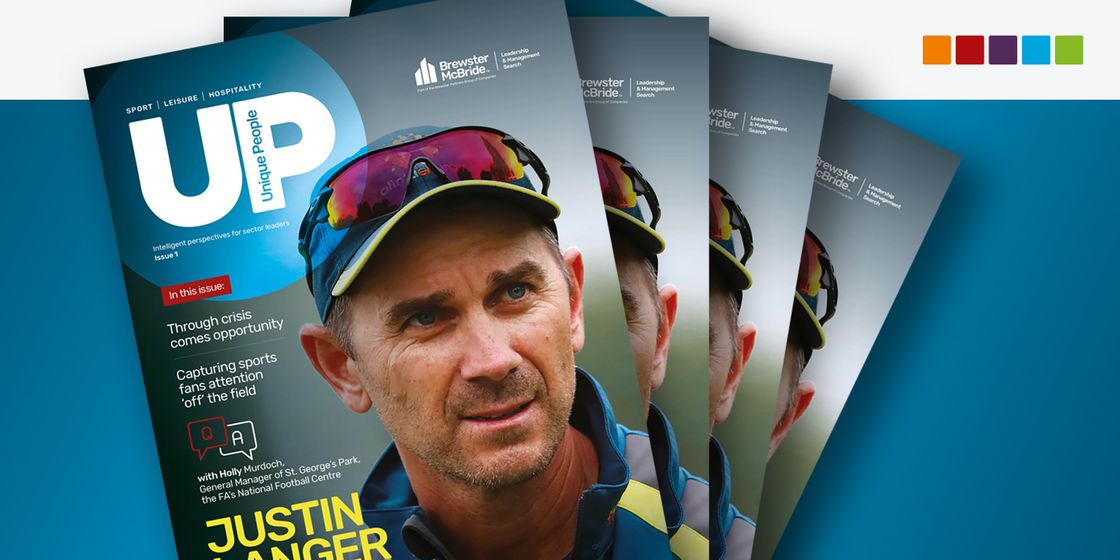 Brewster McBride, part of the Brewster Partners Recruitment Group, are delighted to launch our brand new UP Magazine dedicated to the Sports, Leisure and Hospitality sector.
As part of the launch, we're thrilled to have spoken to cricket legend, Justin Langer, Australia's national men's cricket coach, who gives us an insight into his career transition from player to coach, his views on authentic leadership and highlights the key characteristics and attributes that he feels make a good leader.
We also feature Holly Murdoch, General Manager of St. George's Park. Built in 2012 and set in 330-acres of stunning Staffordshire countryside, St. George's Park is the home to all of England's 27 national football teams and, as well as boasting world class sporting facilities, also has outstanding and impressive accommodation with a 228 bedroom Hilton hotel and facilities to host conferences, exhibitions and banqueting amongst other things. Holly has a wealth of experience and is responsible for the management of over 200 individuals, and the key operational management of this prestigious national facility.
Stuart Cain, newly appointed CEO at Warwickshire Country Cricket and a specialist in business strategy, leadership, commercial affairs and media & digital, talks about his wide and varied career in sports and entertainment spanning over 20 years. He also discusses his NED roles with UKA (United Kingdom Athletics) and the Rugby Football League, including his experience in assisting with the Rugby League World Cup England 2021, including meeting Prince Harry at Buckingham Palace for the launch.
Last, but not least, we speak to Ian Taylor, former Head of Communications, at QPR and Team INEOS as he discusses the potential opportunities to be had during a crisis and his experience in the organisation of #Game4Grenfell, a charity football match held at QPRs Loftus Road to help the victims of the Grenfell Tower fire tragedy.
We also take a look at some of the hot topics and key trends facing businesses at the minute. One of these being 'Game Changer', where we discuss capturing sports fans attention 'off' the field.
Finally, we ask 'How you can help new leaders to succeed?'. This article focusses on the transition from employee to leadership, a progression that can be fraught with difficulties and complexities, and offer advice how can you work to help new leaders succeed and flourish?
Download your copy from the Publications section on our website www.brewsterpartners.co.uk/publications/up