Masuku - Building a sustainable business
Published: 18th July 2021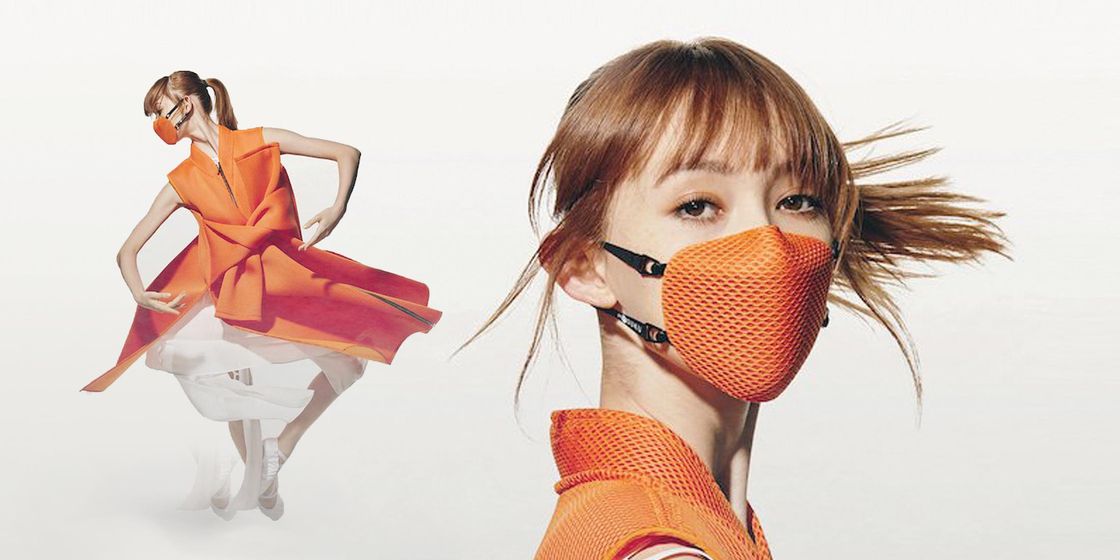 A sustainable environmentally friendly approach to one of the most important items now in everyday use worldwide is coming to South Yorkshire with the launch of a major new brand that will have its manufacturing base in the region.
Andrew Millington of OSL Group Holdings has been acting as Project Advisor to Masuku, a new company established to bring to the market a unique range of high performance face mask products which, as well as offering greater comfort and style, will also provide an environmentally sustainable choice.
Russian supermodel and philanthropist Natalia Vodianova has been the inspiration and driving force behind this exciting project working closely for several years with Pentatonic, the design and sustainable technology partner to Masuku.
Over the last four years, Pentatonic have utilised their knowledge of circular economy materials to develop a unique, fully biodegradable electrospun filtration media critical to delivering both the sustainability and performance elements of the Masuku products.
In part one of our interview, we spoke to Andrew Millington (Director - OSL Group Holdings) and Mark Tomlinson (Head of Operations - Masuku) and asked how this important new working relationship for OSL had developed. In part two we interviewed three more key appointments and asked how they were settling in and what challenges has faced in joining a company that is building from the ground upwards.
PART 1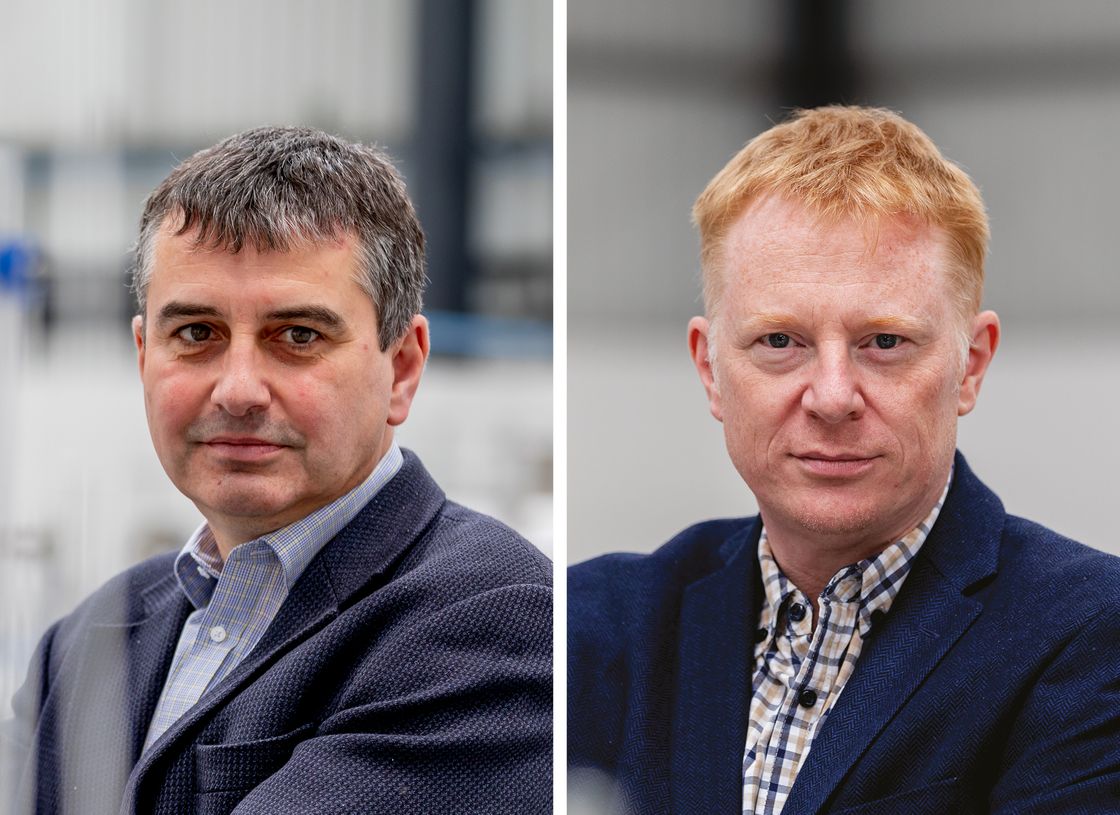 Interview with
Andrew Millington
Director, OSL Group Holdings
and
Mark Tomlinson
Head of Operations Masuku
Why were operations brought to South Yorkshire?
Pentatonic has bases elsewhere in the UK and also in Berlin but ultimately the decision was taken to bring manufacturing operations to South Yorkshire.
Pentatonic explored a wide range of options but even before OSL's formal engagement with the project, we recommended South Yorkshire, with its central UK location and the availability of human capital as the ideal choice.
South Yorkshire offers a wide range of skills in the candidate pool both for the operational and specific scientific disciplines critical to support the unique electro-spinning technology forming the core part of the manufacturing process.
The biggest obstacle in terms of the factory itself was simply finding somewhere that was readily available that ticked all the important boxes.
From previous experiences I know that it can sometimes take much longer than planned to find suitable premises and that every project requirement is different.
As well as location, work space and layout, there are numerous other critical considerations to take account of but fortunately, by working closely with Masuku and the technical team at Pentatonic, we were able to help Masuku find and secure an excellent high quality facility with all the necessary supporting infrastructure.
What are your future plans for OSL and Masuku?
Going forward, OSL will continue to provide operational support services as the Masuku project grows and develops alongside OSL's existing businesses.
As part of our group's plans for the expansion of our own core divisions, we are committed to a program of investment in the skills and resource necessary to ensure that we can continue to develop these divisions organically and by acquisition.
A key element of this ongoing program has been to strengthen our central services departmental teams which include, Finance, Systems/IT, Strategic Procurement, HR & QHSE.
The benefits of moving towards a high capability centralised team are various but essentially enable each of our divisions to benefit from common best practices, and smarter business transactional processes whilst eliminating duplication of activity between divisions.
We want our divisional teams to focus on winning new business and manufacturing products to fulfil customer orders.
Through the provision to Masuku of the same range of operational support services from members of our own central services departments, the Masuku facility team will share the same benefits and expertise allowing their maximum focus on moving as fast as possible to full scale levels of production.
Can you tell us a bit about your background Mark, and how that has led you to the role at Masuku?
I've spent about 30 years in the Sheffield area, mostly in the metals industry, as I started off as a Metallurgist and Sheffield was the place to come
if that's what you wanted to be. I then progressed through a number of different local companies such as British Steel and Allegheny Technologies before moving into operations management and general management.
I worked in specialist metals - stainless steels, nickel alloys, titanium alloys, and manufactured components before moving across to Sheffield Forgemasters to look after the technical side of the melt shop there as Technical Director, overseeing the 110-tonne furnace and casting of ingots. After a few years I moved to Operations Director there to have more influence in the business and move out of technical slightly - my interest has always been the bit where the technology meets the 'getting things done' bit. I had around 100 reports, with 12 direct reports, and our spend budget was about £50 million annually. I also spent a couple of years in a commercial role doing more strategic projects.
I then moved to Metalysis as Managing Director for their scale-up operation. That involved the application of technology into manufacturing – they were looking to expand a university spin-out into a fully productive operation. I oversaw the set-up of a new, larger unit that they had designed and built as well as doing the ordinary production management and continuous improvement. I took a largely academic team and built a production team.
This background played into what Pentatonic were looking to do here at Masuku – an exciting new technology aligning with modern manufacturing techniques and equipment. They were looking for someone who had a combination of the technology background and experience of new product introduction, as well as being capable of establishing a modern manufacturing facility. I looked at it as a really exciting project – for me. I will enjoy the intersection of technology and manufacturing; it's a great chance to start with a blank sheet and design a manufacturing process the right way from the ground up. Also it has some really interesting technology associated with it, and the potential to move into a variety of different end products.
The CSR side of the business, the ethical side, also attracted me to the role. The idea of a sustainable product is really interesting. You wouldn't imagine but there is a lot of sustainability work in steel production – it is inherently a recycled material and a lot of effort at both Forgemasters and Metalysis was put into reducing energy usage and reducing carbon footprint, so my experience of that combined with the technology and the goals and aspiration of this product line all came together nicely.
Tell us about the recruitment process for the new facility
A major challenge was establishing a core team of operational and technical experts to support with the initial stages of facility set-up as well as becoming the key members of the team responsible for all future manufacturing within the facility. As well as selecting individuals based on their functional skills and experience, we also wanted to ensure that we created a positive and balanced dynamic within the team.
Recruiting during lockdown meant that we had to use video calls for interview and we really had to go the extra mile to ensure the relationships between ourselves and potential candidates were developed.
It did however serve to highlight the value of video calls - for the future we know we can quickly get to know someone and while it will never replace face-to-face meetings, it does provide another valuable method of engagement.
PART 2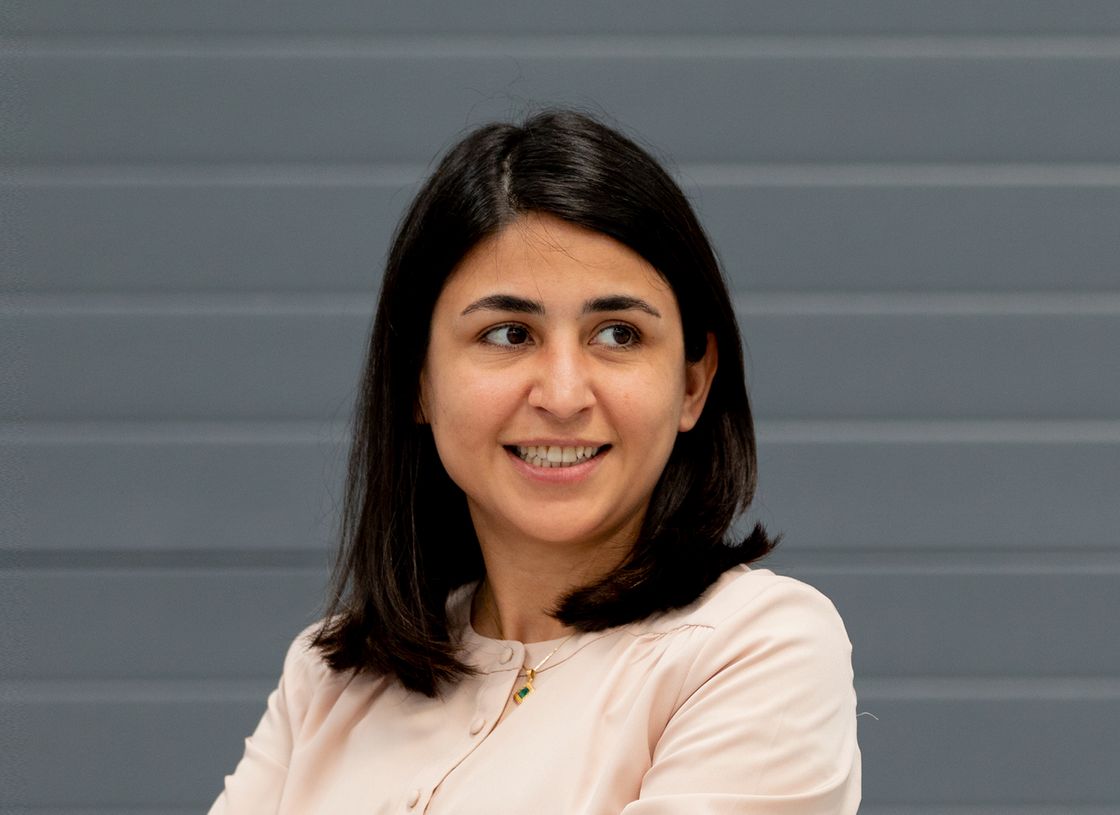 Q&A with Zohreh Gharaei
Lab Manager
Please could you tell me a little bit about your background?
I come from a textile engineering background – I came to the UK in 2011 to study a Masters Degree in Non-Woven for biomedical applications, and studied for a PHD after that in the same subject (with projects focusing on hard tissue regeneration using fibre as a scaffold to help and regenerate bone and tissue instead of implants).
I am a hands on person and missed the lab so went back to working within a university to do more projects - one with Adidas, developing a 100% biodegradable sports shoe. Trainers are currently made up of more than 40 different components, all different materials. This sports shoe was made of 100% the same material, these were EU projects.
In 2019 I started to work on vaccine projects – looking at the use of fibrous material to deliver vaccines and drugs (we started these projects prior to COVID but switched to working on a specific COVID project with Oxford University to try and stabilise the COVID vaccine and keep it in room temperature). That was a two year project.
What attracted you to the role and the company?
With the business being a start-up I hoped it would give me space to learn and to grow. The role itself is very hands-on and laboratory-based and I feel that management suits my personality. It's exciting to develop a whole lab from scratch and it will also give me some good experience having ownership of the whole process.
I love that the company is focused on Research & Development and product development, not just manufacturing.
What have the challenges been so far?
There were just general challenges at the beginning as nothing was established - figuring things out and everything is fluid now.
What are you most looking forward to in the future?
To be able to develop a high tech laboratory and R&D in which we can produce non-woven products for different applications - not only limited to air filtration and facemasks - as we have the manufacturing technology to transfer to other biomedical applications.
What have you enjoyed most about working for the company so far? (This question was a little unfair as it was her second day!)
It is only my second day - so this photoshoot!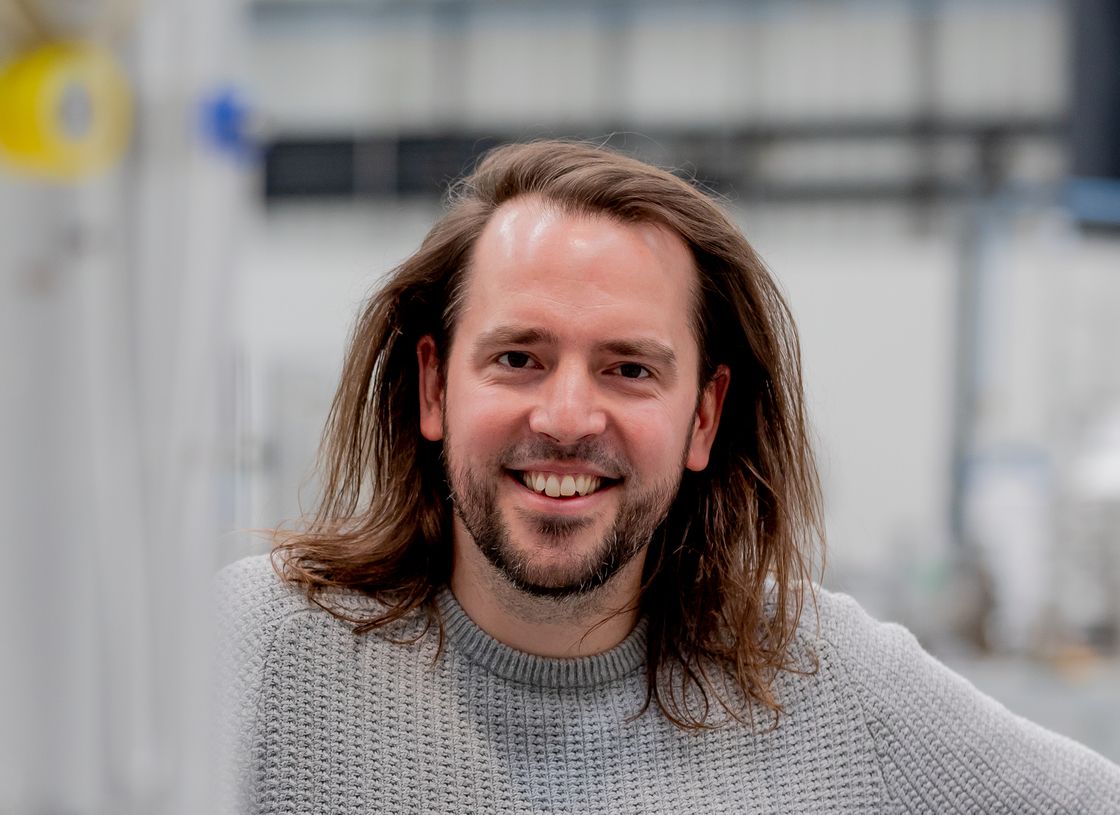 Q&A with Michael Thomson
Technical Manager
Please could you tell me a little bit about your background?
My background is in physics and engineering, but mainly physics. I did a Degree in Physics, then an Engineering Masters, followed by a PhD in Chemical Engineering. I spent my formative years involved with glass coating front contact layers for solar cells – the company sponsored my PhD so I worked there alongside my studies. They specialised in coatings for thermal energy efficiency, were multi-disciplinary, and I was hands-on, building machines.
For 2-3 years I then worked on antibacterial coatings; for a vacuum company related to vacuum engineering, high value stuff. I then worked as part of consultancy team, designing bespoke applications for tooling, for large and small companies such as BAE, Rolls Royce and Universities.
I've worked with high value metallurgy firms like Goodwin Refractories, Bodycote and building plastics companies – I've been around and seen a lot of processes!
Goodwin Refractories involved working in Castings for four years or so and then I relocated to the Sheffield area.
What have the challenges been so far?
Getting all the kit and machinery working, the unfamiliar territory. My good mixture of academic and industrial background has helped when putting machinery together. If I've not seen it before, I can spend a while working out how it works.
What are you most looking forward to in the future?
Getting the whole thing running and starting off with an empty shop floor. I'm looking forward to designing new materials, new phases and the phases beyond that, I'm very excited for the future.
What attracted you to the role and the company?
It's the mixture of research, technical management and hands-on work, being able to stay involved in the development of new things and the day-to-day running of a team. I felt it had the right blend of all the aspects of the parts of a role that I enjoy.
What have you enjoyed so far?
The work environment is very different - everyone has a similar mind-set, with no pre-existing methods or expectations of how things should work - but how they can shape and mould the culture, and have an input into the decision making.
There's no element of "this is how we've always done it" – such as the old story my Mum told me about why her family always baked a cake and had to cut it out from the sides, when it turns out it was only first done in this way by someone in the family because they didn't have bowls big enough and everyone else just copied!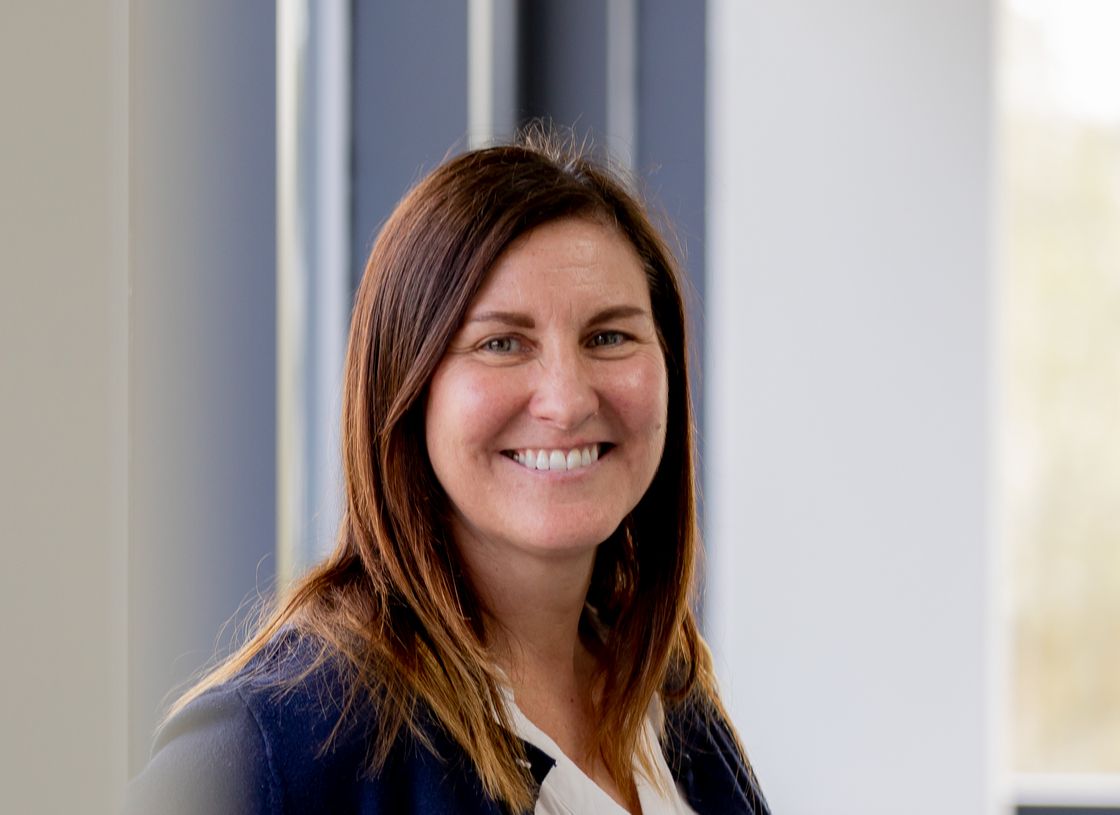 Q&A with Nicola Norton
Production Manager
Please could you tell me a little bit about your background?
I spent 27 years in the automotive industry working for a 1st/2nd tier supplier, joining in 1994 as a Production Operator; then after spending a few years in manual, using pneumatics and manual presses, I progressed into the Quality Department as Production Analyst - fault finding things that would fail on production line. I was then Group Leader, driving KPI's, supervising 3-5 production lines with up to 40 people, mainly managing people and recruitment. I introduced lean manufacturing, and was then promoted to Senior Group Leader/Assembly Manager - responsible for the entire production area across three shifts - budget control; improvement implementation; and recruitment strategy (looking across the next 2 years).
The business grew significantly, bringing in Cost Centre Leaders. I took up position as Training Manager and developed a training programme and introduction to lean style systems.
I was involved with a hugely diverse range of activities such as succession planning, upskilling new technology on the shop floor, working with the apprenticeship levy, inducting new apprentices, R&D of both electronics and mechanics.
I then went back out to Manufacturing as the Production Manager to support the closure of the business, and now I'm here.
What attracted you to the role?
The people involved with the Masuku project have got a vast range of knowledge and experience - the new start up side of things was attractive to me; to be part of creating a culture and structure. Also the idea of sustainability and the future of the planet.
What challenges have you faced?
It's always a challenge with a new business: it's an empty shell without structure in place, so you're starting everything from scratch and building everything up. It's been a change from a fast paced environment into something a little slower - it was a different approach in the early days.
What are you most looking forward to in the future?
I'm looking forward to seeing the results of what we've been building towards - seeing new products being produced, and seeing it all come together.
What have you enjoyed so far?
I've enjoyed the opportunity to get to know different people with different backgrounds, finding out what other industries people are from - you never stop learning. The processes are the same but the R&D side is very different here, and I'm gaining a better appreciation of this.
Team building has been good as we're all thrown in together - opportunities like this don't come up very often.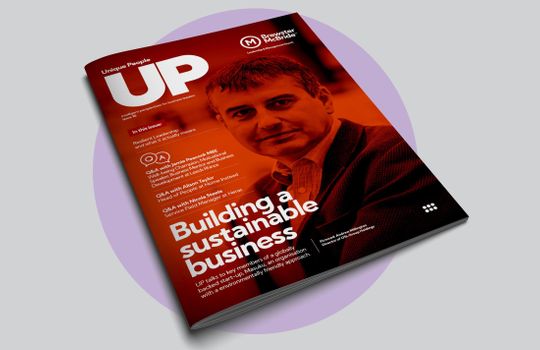 This article is featured in UP Magazine Issue 10
Share