Leadership with Integrity
Published: 1st August 2019
The past couple of years have seen some tough times for well-known businesses. Take the examples of the VW scandal and BHS's difficulties, they seem to demonstrate that, nowadays, more and more companies and their leaders display a lack of integrity. So, with this in mind, how prevalent is a lack of integrity in business?
An apparent lack of integrity in the corporate culture doesn't just have a potentially negative impact on profitability – it can also have a draining impact on motivation, result in an increase in stress, and a negative impact on the general wellbeing of employees. It is obviously damaging to morale for all employees when integrity is lacking in an organisation, but as well as this, surely 'good' economic growth in regions like our own consists of not only well-run, profitable businesses, but also those that genuinely embrace a view that integrity should be a cornerstone of their operations.
There are many styles or models of leadership, but the single feature that, for me, is the most enduring is when leaders have a clear view of organisational ethics, ethical behaviours of leaders, and what outcomes they deliver for employees and the organisation as a whole. Surely the leaders that we naturally gravitate towards are the ones that are values-driven, and have an aspiration to deliver ethical outcomes to a range of stakeholders beyond short-term commercial gains. This is sometimes described as 'purposeful leadership' - a concept which includes 'the extent to which a leader has a strong moral self, a vision for his or her team, and one that takes an ethical approach to leadership marked by a commitment to stakeholders', such as supporting good causes, taking care of employees, and being environmentally responsible.
Recent findings from research on leadership show that 'purposeful leadership' and its individual components of 'moral self', 'commitment to stakeholders' and 'vision', are important in influencing a range of employee outcomes including intentions to leave the organisation, job satisfaction, willingness to go the extra mile, sales performance and, not to mention, lower levels of cynicism. However, some potentially worrying research from the CIPD (Chartered Institute of Personnel & Development) suggested that in the UK population only four in ten workers (40%) score their leaders highly on ethical leadership. From working in our region throughout my career, I am much more positive about the leadership of our businesses, and I believe that Sheffield and the wider region would score much higher than 40% on this one!
It is important for employees to feel that they are able to translate their personal moral values into the work environment. This is becoming a critical issue as increasing amounts of research and anecdotal evidence suggest that younger generations see the moral and ethical stance of an organisation as a key determining factor as to whether they want to not only work there, but also use the business' products or services. For businesses to truly achieve this there needs to be a fit between the values of the employee and those of the organisation. The degree of alignment between the values of the organisation and those of the employee,in combination with ethical leadership behaviours,has an undoubted impact on things like meaningfulness of work, organisational commitment, job satisfaction and intentions to leave the organisation. So, in short, leadership with integrity and a clear moral and ethical stance isn't just the right thing to do – it can actually contribute towards increased productivity.
Having workedwith many hundreds of businesses over the last 20 years, experience has proved to me that most Management Teams and Boards of businesses in our region believe that integrity is key, but some just fail to communicate this in any sort of meaningful and coherent way, and this becomes an issue, as a sense of organisational integrity must come from the very top to have any real chance of becoming a reality. If organisations across Sheffield and our wider City Region commit to high standards of ethics and ethical behaviour, and communicate this to ensure alignment between the values of the organisation and their people, I am confident that this will be another differentiator for our region and a genuine source of not only competitive advantage, but regional pride.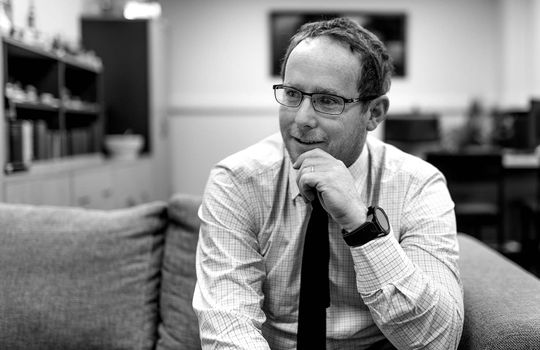 Insight from Christopher Alcock
Share