Inside a bio-secure test series
Published: 6th August 2020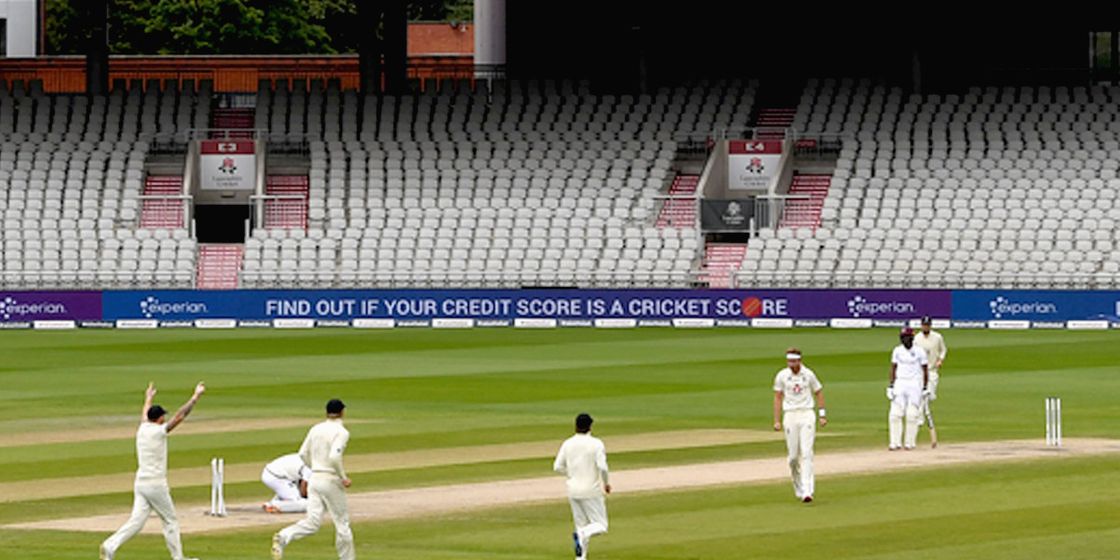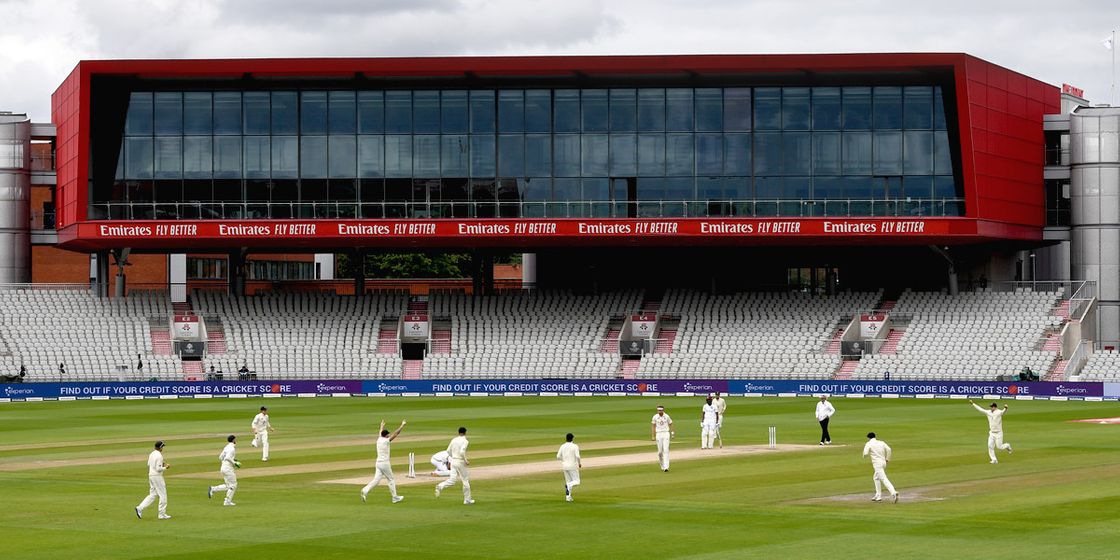 Emirates Old Trafford recently hosted two matches in the England v West Indies behind-closed-doors Test Series as well as the First Test against Pakistan. As one of the first venues to host international sport since the global pandemic took hold, we spoke with the leadership team to find out how they prepared to host the event, what they have learnt, and what the future now holds for the industry.
Before the first Test Match we spoke with Steve Davies, Operations Director, Angela Hodson, Sales Director and Liz Cooper, Partnerships Director, to understand what steps have been taken to prepare the venue for international sport and how the club has approached this challenging time.
What is it about Emirates Old Trafford that allowed it to be selected as one of two venues to host these International Test Matches?
Angela: We were selected based in our ability to create and become a bio-secure venue. Here at the Emirates Old Trafford we have a 150 bedroomed Hilton Garden Inn hotel, alongside a significant amount venue space, our biggest room can hold up to 1,200 people. We also have a large pavilion with many multi-purpose rooms and everything here is interconnected by a bridge link. The venue is based over a 17-acre site with huge car parking facilities. All of this space was a big factor in us being selected.
We are well known to the English Cricket Board and have delivered some huge events over the years. There has been £60m of development over the past 10-12 years which has turned Emirates Old Trafford into a standout venue. Building the hotel was a master stroke, as not only does the hotel service cricket, it also services the conferencing and events business which is equally as important and generates around £4-5m annually.
Underlying everything is the confidence in our staff and venue to deliver. Last year we held the Ashes and multiple World Cup matches and in 2017, the One Love Manchester concert, which were incredibly successful events. It's testament to the staff, our capabilities and how we've grown over the years, which has allowed us to be selected to host the upcoming Test Match Series.
What specific measures have you had to put in place to ensure the venue is bio-secure?
Steve: We have had to do everything from scratch. The key part is how it remains bio-secure in every single process, like feeding people and letting them sleep in the accommodation to training in the facilities.
We have had to introduce procedures to ensure people are healthy to be in the venue and we are constantly monitoring everything that is happening within each environment. The ground itself is 17-acres in size and is fenced off to the outside world, which makes it almost an island of sorts. To even gain access you are required to take a Covid-19 test and must test negative. We have a 3rd party company doing this for us called Pronetics who are also working with Premier League football too.
Providing you test negative, you then have to complete a health questionnaire which is reviewed by an occupational health company which determines, irrespective of whether you test negative, if you are safe to be on site. Then of course, those on site have temperature tests and these people are then as risk free as possible in this current climate.
We also had to look at increasing and adapting our cleaning regime. We are supported by The Hilton Group with this as their standards are used as a benchmark in the industry. We have also had to work with medical experts and with the Government to create our own guidelines in compliance with the highest standards.
It's incredibly clever, the way the site has been split into three zones and groups of people only allowed into specific zones. One of which is the green zone - only players and media are allowed in. We have access cards that you need to be able to enter each zone and your temperature must be taken to be safely allowed into each zone. The amber zone is for the operations team and catering teams and the red zone is the outer ring which is used for deliveries and external arrivals.
We have identified who, how, and when each person can enter a zone. It's so secure that only really essential staff can get on site. For the ECB to get this over the line they had to present operational plans to the Government for approval.
What is a typical match day going to look like for a player?
Liz: The West Indies created a video that shows 'a day in the life of' some of the players in their squad when they were quarantining and training on site at Emirates Old Trafford. It shows what it's like for players - from getting up in the morning, heading to training, having lunch, playing in the games room and using the massage facilities etc. It really does give you an insight into what our facilities have to offer and we've had some really positive feedback.
Steve: They've generally really enjoyed it. Coming from the West Indies where Covid-19 has been considered much less of a big deal to the UK, where we have really strict rules on wearing face masks and keeping a distance of 2m. Prior to their arrival, I think they were worried about how this would all pan out, but generally we have had really positive feedback from them.
Although we have created zones, we have still been really strict with enforcing two-meter social distancing. When they have breakfast in the morning for example, they are each sat at their own separate table. They have to wear gloves and a mask when getting their food, so it's really not as fluid as it would usually be in the mornings, but after breakfast, when they head down to the changing facilities, it's as normal as we could possibly get it.
For us of course, health & safety has to be the number one priority, but the trick is making sure that it's not obvious. We still want to create a great experience for them and so far, I think it's working. The reality is, there's an acceptance that people will inevitably break the two-meter rule. You can see it watching the football, it happens. Lots of science and investigation has gone into this. The key is avoiding the players spending a consistent period of 15 minutes face-to-face with one another. The ECB have looked into this, and realistically, the players don't spend 15-minutes face-to-face with one another.
The Bundesliga reported that players spend, in a typical game, a maximum of 46 seconds face-to-face with a specific player, a surprising statistic which helps identify which things can go ahead.
How supportive have the ECB been on offering support both operationally and commercially?
Steve: They've been superb. From day one they have been really helpful. We're the experts in how to run our own site, whether that be hotel, conferences or cricket, but we aren't the medical experts here, nor can we claim to be. Where the ECB have really helped is with the medical expertise. The thought processes we had prior to this were based upon what we've seen on the internet, so having them come in with research-based plans and information on what the right things to do was really helpful.
Second to that, operationally they've been on site and worked with us and it's been a great collaborative project. They've helped us with putting signage, sanitisers and one-way systems in place. You can see how well we've gelled together and so far, it has been a dream working with them.
Liz: We've been talking with their Commercial team around the branding piece and looking at additional value for our partners as well as theirs. A lot of the assets that sit with our commercial partners are around tickets and hospitality, and clearly, we aren't delivering on either and the commercial partnership income is really important to us. We've had to be quite creative with how we manage to replicate those assets in a different way. The ECB have been flexible in terms of offering additional space and sharing that among their commercial partners. I think it's testament to the good relationship we've got with them.
How challenging has the pandemic been for the team at Emirates Old Trafford?
Angela: We saw early signs in February, but in March everything simply stopped. No new enquiries were coming through, so we knew it was going to be bad. Some of the big events we had planned in were cancelled and many were trying to reschedule for September. Our thought process at the time was that by September, we would be in a much better position. As time has gone on and without clear Government guidelines on the opening of the events industry, more and more organisers are now rescheduling again into 2021.
We aren't effectively losing business, we're just seeing it disappear from the back end of this year. It's going to be a real challenge to deliver big events, it's difficult to socially distance even with the one-meter rule. It's not just looking at how many people we can get in one room, we have to consider experience and how we move people around and service those people. The teams are having a lot of challenging conversations at the moment with our clients to overcome these issues.
Ticketing was similar in that it just stopped. People just stopped buying hospitality tickets in March. We are currently going through a refund process with buyers of tickets for the Pakistan Test Match. We're still waiting to see what's going on with Australia IT20 before we can start organising and planning what to do with that. It's been a huge challenge.
Liz: In terms of domestic cricket, our members are so important. They have been so supportive and have Lancashire and the red rose in their DNA, which has been incredibly helpful. Clearly, they are all waiting with bated breath to see what the schedule is going to look like and whether they are going to be able to come and watch live cricket.
The commercial partnerships have been a real challenge. It was a question of - how on earth are we going to deliver on £1.6m worth of assets? We created a communications strategy focused on all of our fans, stakeholders and supporters. We have a comprehensive social media strategy – our comms team has been amazing, so much so, that the ECB asked our Head of Comms to present our strategy to all the other counties. The content that has gone out has been exemplary and feedback has been fantastic.
Steve: From my point of view, it has been extremely challenging. I'm sure many of us will look back on this and think of it as one of the toughest moments in our careers. Nobody I know has experience of how to put a cricket match on behind closed doors in a bio safe environment during a global pandemic. I'm fortunate that the team that we already had there had done some exceptional stuff. My background prior to this, I was an Operations Director at theme parks and zoos. There wasn't a day that went by that I didn't worry about something like a rhino escaping or someone in the tiger enclosure etc. You have to be mentally prepared for challenges.
The challenge has to stay with you and your team, you need to be prepared and be thorough. It sounds miserable, but you have to work with the worst-case scenario in mind. In this case, it's someone testing positive for Covid-19 and getting seriously ill. If we work and prepare for this being the worst case, then we will deliver the best. I genuinely think we will look back on this in years to come and think 'Wow, that was really hard, however it's something I'm really proud of'. I won't for a second think it's been easy though.
What advice can you offer other venues that are looking to re-open?
Liz: I think it's about being able to think outside the box whilst knowing your audience. You have to keep communicating, keep talking and face it head on. You can't be afraid to have difficult conversations.
Communication and constant contact are key. We know our partners, members and contacts really well, it takes a lot of energy and effort to keep everyone connected consistently, but it's worth it. We are in unknown territory, we didn't even know if we would still have a business. We lost millions in the space of a few months, it was incredible. You have to think about what has made your business successful so far and focus on that.
We came up with virtual hospitality. We thought about delivering picnic baskets, sending champagne out and putting key figures on Zoom calls to recreate the hospitality experience. We spoke to our partners about it and they thought it was a great idea. It sounds cheesy, but you need to look at positives and try and make the best of a really dreadful situation.
Angela: It's been about staying as flexible as we can with clients and empathising with the situation. As much as we are having a tough time, so are they. We want to make sure we retain relationships in the future, and I think we will definitely be defined in the future by how we have handled ourselves in these recent challenging times. We are just having open and honest conversations with people and talking through each individual case to try and find solutions and ideas for how to proceed.
Steve: For me, one thing I would suggest is to seek expert advice. What you read on the internet and the government guidance is purposely loose, so it's key that you get expert advice that is specific. We're lucky that we have had access to specific medical advice, and we would be more than happy if anyone would like to pick our brains for this information. Ensuring you really understand the science behind it, really does help instil confidence in your guests and clients.
Post series we caught up with CEO Daniel Gidney, where he talked us through the wider impact on the club and how they are preparing to reopen Emirates Old Trafford.
How big an achievement has it been to stage these Test Matches against the West Indies?
I've has a long career spanning 30 years, having been a sports CEO for best part of 15 years and I've been involved in many major sporting events from the Olympics to music concerts. This year has been more complex and challenging than anything I've ever done in my career. I can't overstate the amount of planning and work that has gone into this. When we realised we were going to go down a bio-secure route, I spoke to Steve Davies, the Operations Director, and we agreed that we needed to get ahead of it. There were a couple of people on the executive team who thought it would be better to wait until we had more clarity, however I thought that we needed to act, so we could be ready to hit the ground running as soon as we needed to.
We initially created a 50-page PowerPoint on how we would run a bio-secure event based on our experience and comprehensive knowledge of our site. We knew then that there were many processes to go through. There was a formal submission of interest process with the England and Wales Cricket Board and I think the combination of us having a 150-roomed, 4 star hotel on site, 17 acres, and a tremendous amount of parking, put us in the best position to host a bio-secure Test Match.
Space is a big issue. At 17 acres we have the biggest site out of any UK cricket ground, but when you look at the medical overlay that's required in terms of the thermal testing and everything that goes with the Covid-19 pandemic, there's just no way a smaller ground could have coped with what's required from an ECB overlay, let alone the requirements for people to stay on site. It's been a huge challenge, but great to finally see some cricket being played here at Emirates Old Trafford.
In what ways, will Covid-19 impact on the way future events are held at Emirates Old Trafford?
I think giving people confidence in your site and going above and beyond the Government guidelines. The West Indies team for example, have come from a country with very few Covid-19 cases on a private charter plane paid for by the ECB. They have come into the UK and been asked by our Government to quarantine for 14 days. When they arrived, we arranged for them to go through Manchester Airport via a VIP terminal, so they didn't have to go through the entire airport to ensure their safety. We and the ECB went above and beyond the guidelines in order to give them the confidence that we were doing everything we could to keep them safe.
The key leaning points are the need to ensure people feel confident with our safety measures and realise that we are doing everything in our power to keep them safe, and I think that will help us tremendously in the future with our event organisers.
To put into perspective, cricket has had 3,500 PCR tests done on a weekly basis for players and venue staff, and we're the only sport in the UK, as I understand, that have had zero positive tests. So far, the ECB has managed a brilliant medical environment with the running of PCR tests, and I think that breeds confidence.
You are launching an initiative called Safe in One Place – can you talk us through the idea behind it?
We wanted to create a brand that basically said what it does on the tin. It's all very well saying that you are 'Covid-19 compliant', but what does that actually mean to people. A lot of people will say that they're now certified in regard to Government guidelines, but again, what does that actually mean in practice?
Safe in One Place came about because we have the 4-star Hilton on site that's actually connected to the ground via a bridge, so you can go from the conference space to the hotel without going outside. We have 700-800 parking spaces onsite that can be used for parking, which in turn allows people who are nervous about taking public transport to come via their own private vehicles and park onsite.
The ability to be able to drive yourself to the site, stay in the attached Hilton that has the Clean Stay branding (which I believe is industry leading in terms of cleanliness in the hotel sector) is brilliant. You are even given a digital key that allows you to avoid interacting with anyone on site. You can simply download the key on your phone, go into the lift, up to your room and your phone opens your hotel room door. In the restaurant each table is at a 2m distance and you have to wear masks to go to your table and gloves to collect your food, but you can still order food to your room, so you can in fact enjoy an entire stay without interacting with any staff at all.
We need to recognise that everyone is unique, and we have created an environment that says everyone is welcome and safe. If you want to go to your room and conference without interaction, we can look after you, or, if you want to engage a bit more (whilst adhering to the 1m distance rule) we can do that too. I think it's about recognising that people are different.
The ECB and Government have played a key role in getting matches back on – has the Government done enough to help get the conferences and events sector moving?
The ECB and Government have done a great job in terms of getting sport back on. To have international sport here as one of the first countries in any part of the world to do that is credit to the UK Government and the ECB without a doubt
The C&E business has become a bit lost and I don't blame the government solely for that. I think the problem is that the events industry is slightly fragmented. The industry has SIC codes - the Government treat you as a certain industry if you have got one code. The problem with this is if you've got multiple codes, for instance if you are a wedding venue, event venue or a stadium that does conferences, the Government sees you all as different.
The sector is a £70 billion industry that employs 700,000 people. The problem is, these codes have fragmented it, so the Government hasn't seen us the same as they would see cricket or football. I think there's been more clarity over the past four weeks where the industry has tried to come together to give a unified message. I don't think the Government has seen conference delegates as visibly as people going and visiting a pub when it comes to getting things reopen. I think that has pushed us down the list.
Some people believe that the conference businesses will be last to open alongside theatres, but I think we are very different to theatres. You only need to look at what we are doing here behind closed doors to provide a safe environment for the ECB. We have a large amount of people who have been moving around indoors using one way systems, multiple hand gel dispensers, cleaning points and thermal measurements to stay safe. It shows that we're managing a complex plan to get people moving around indoors. This would be no different to what we would have to organise for a conference, so I think the Government haven't yet seen this and the events industry has been pushed to the bottom of the pile.
What are the financial implications of COVID-19 on Emirates Old Trafford?
There were two things that enabled us to get to this point in the year, one was having record financial results in 2019 and the second, was the Metro
There were two things that enabled us to get to this point in the year, one was having record financial results in 2019 and the second, was the Metro Bank refinance, which was significant and halved our interest rate. We engaged with the bank early, who gave us an immediate capital repayment holiday until the end of the year. This gave us a working capital extension should we need it.
Those two things have certainly enabled us to get to where we are now. I saw most of our budget disappear within the space of five days in March which was very challenging for us. Without any international cricket this year, there would have been a minimal financial contribution from the ECB into county cricket. I think a number of counties would have gone bust, each county benefits from a large seven-digit sum from the ECB annually.
The Government announcing the October 1st date is important to us too. It is the biggest quarter for our conferencing and events business because it generates approximately £4/5m turnover just in that quarter. If those events weren't allowed to reopen by October, that would have been very challenging for us. We now need to focus on getting the guidance confirmed, working with our clients and confirming events with those who have been waiting.
Without a doubt, it has been very challenging for us financially, but we will get through the year now without need for external finance. Back in March I had four emergency triggers of things that I may have had to implement in order to help the club survive. Thankfully, the ECB, along with the C&E business at the end of the year, has supported us and we won't have to recourse back. Getting through this year (whatever our record) even with a record year last year, will be a greater achievement.
This article is featured in UP Magazine - Sports, Leisure & Hospitality Issue 2
Share