How to step up your presentation game
Published: 11th October 2021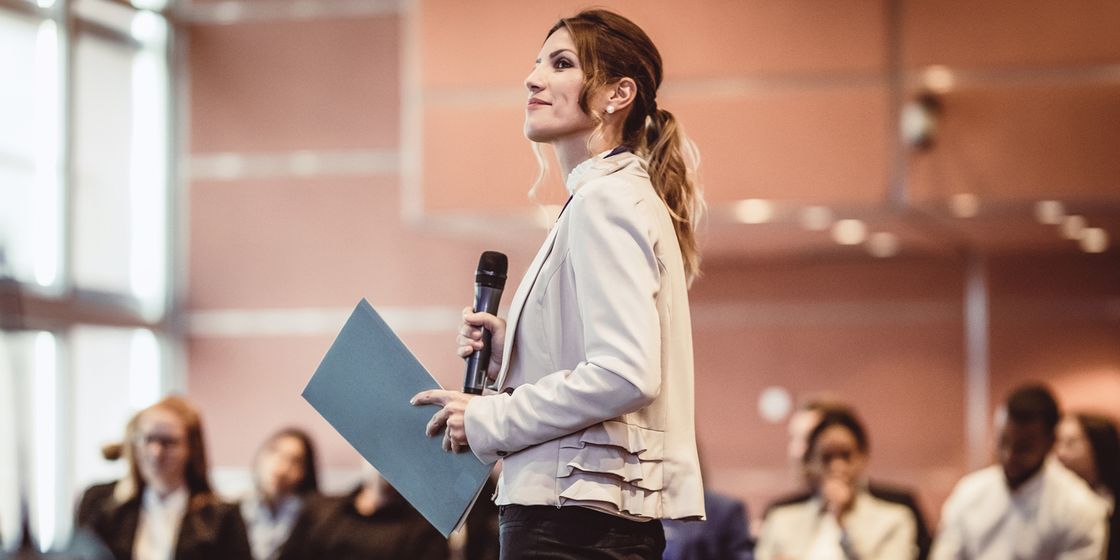 Presentations are nerve-racking, whether you're delivering to 5 people or 500 people. You might be a seasoned public speaker or a complete beginner, but either way there are some things to consider that might help you up your presentation game…
Prepare, Prepare, Prepare
This might sound simple, but don't try and wing a presentation. Instead, ensure you spend plenty of time preparing. You want to make sure your presentation is interesting, relevant, engaging and that you're delivering it in a conversational style and not in a monotone that people will simply blank out.
Use Visual Aids If Necessary
Whilst visual aids are important for many presentations, it's vital not just to create a lot of PowerPoint slides just because you feel like you have to. If visual aids are going to play the part of enhancing your words and points then by all means include them, however, if you're just including them as 'filler' don't bother.
You can also consider other types of visual aids, such as short videos, a physical product or a model or assistant if required depending on the topic. A presentation doesn't always have to mean PowerPoint.
Keep in the Time Frame
If you've been given a set time for your presentation, try to stay comfortably within this. Don't make it so that you have to rush and talk really fast to cram everything into the given time and edit your content down if you have to. Similarly, don't try to talk really slowly to fill up the time if your presentation is too short. People will know exactly what you're doing and will assume you haven't prepared as much as you should have.
Be Ready for Questions
The best presentations engage their audiences and people may have questions afterwards so be prepared for this and leave enough time for this too. Don't worry if you don't know the answer to everything, but ensure you confidently say so in a positive way and perhaps even bounce the question back to the audience by saying "I hadn't thought of X in this way, does anyone have an opinion?".
Channel Your Inner Confidence
Do whatever it takes to help quash your nerves and channel your inner confidence. Whether that means doing breathing exercises or listening to your favourite songs before you begin, or whatever else feels good for you. A confident presenter is better than a nervous one!
For further information or if you are looking to recruit on a temporary or permanent basis Brewster Partners are here to help, contact our team today.